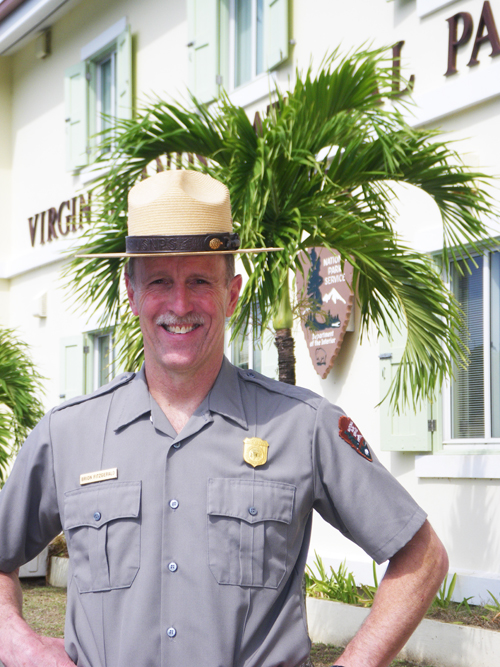 News Release Date:
December 27, 2016 After almost four decades of exceptional and honorable public service, Brion FitzGerald will retire from the National Park Service effective January 3, 2017.
Brion began his career with the NPS as a volunteer trapping the European Wild Boar from Great Smoky Mountains National Park in 1977 as a summer intern Parks and Recreation undergraduate from East Carolina University. Brion was a member of the first class to graduate from the Seasonal Law Enforcement Training program at Southwestern Technical Community College in Sylva, NC and worked as a seasonal backcountry ranger in the Smokies and Joshua Tree National Monument before accepting his first permanent position at Gulf Islands National Seashore, Mississippi. Before leaving the Smokies, he took the time to wed Mary Robinson, who was also a career NPS employee working as the Cades Cove District Interpreter. Brion and Mary were reunited at Saguaro National Park where both served before heading east and south to Everglades NP where both worked as supervisory park rangers and lived at Flamingo.
Their next stop was Assateague Island NS, Maryland in the mid 1980's where Brion served as Chief Ranger and Mary officially "retired" from the NPS. Over the next several years they were blessed with the births of their three children, Brion, Kevin, and Katie. In the early 1990's their next move was to Gettysburg NMP where Brion managed the Interpretation and Visitor Protection programs, eventually assuming the duties of Deputy Superintendent as well. In 2013 Brion and Mary relocated for the last time with the NPS when he accepted the position of Park Superintendent at Virgin Islands NP.
Brion's career accomplishments are both numerous and widely varied. A small example would include leading the NPS effort in writing the Service wide Structural Fire policies and guidelines; managing numerous high profile events as the first Incident Commander of the Mid Atlantic Region All Risk IMT; playing an integral role in the development, design and construction of the new visitor center, collections storage and Cyclorama exhibit facility at Gettysburg and most importantly, serving as a mentor, advisor and friend to countless employees, co-workers, superiors and partners along the way. Those who worked with or for Brion know him to be one whom never shied away from dealing with the difficult issues on a local, regional or national level. He asked the tough questions, gave thoughtful and reasoned analysis and was rarely, if ever, outworked!