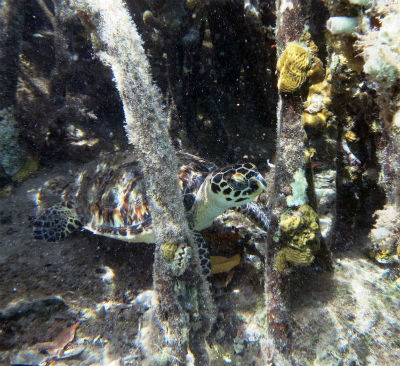 News Release Date:
April 8, 2018
Contact: Thomas Kelley, 340-776-6201 ext. 239
ST. JOHN, USVI -- Virgin Islands National Park and Virgin Islands Coral Reef National Monument announce procedures for mariners wishing to register their vessel in Hurricane Hole for the 2018 hurricane season.
Vessel owners who were permitted to use a storm mooring in Hurricane Hole during 2017 and who wish to retain their storm mooring berth for the 2018 season must complete an application to renew their berth for 2018. Applications may be downloaded at the monument web page (www.nps.gov/vicr/learn/management/hurricane-hole-storm-refuge.htm), or picked up at the NPS Visitor Center in Cruz Bay. Please contact the Resource Management and Interpretation Admin Support Assistant at 340-776-6201 extension 239 or email us at viis_storm_permits@nps.gov with any questions regarding a 2018 application. Completed applications may be sent via e-mail, U.S. Mail, or delivered in person at the park visitor center between 8:30 am to 4:30 pm and must be received by the park by May 22, 2018. Applications may be mailed to Virgin Islands National Park, 1300 Cruz Bay Creek, St. John, VI 00830. The NPS will issue a new permit upon receipt of the application and verification of the 2018 berth assignment.
A drawing will be held for all open berths on June 2nd, 2018, beginning at 9:00 a.m. at the pavilion in front of the NPS Visitor Center in Cruz Bay.
A vessel owner who was issued a 2017 permit and whose vessel was rendered unsalvageable by the 2017 hurricanes may renew the permit for their new vessel. They may also renew their berth but relinquish it for temporary use in 2018, to allow time to replace their vessel.
Any vessel owner who was issued a temporary permit last year may contact Ms. Francis if interested in retaining the storm mooring berth for which they were issued the temporary permit, in the event that the original permittee decides to relinquish the berth for another year. Should the original permittee elect to utilize that berth this year, the temporary permit holder would need to participate in the June 2nd drawing to compete for open berths.
Note that if a vessel was sold or transferred during the past year, it is the vessel which retains the storm mooring berth and not the past owner.
Please the Resource Management and Interpretation Admin Support Assistant at (340) 776-6201 extension 239 should you have any questions.