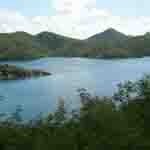 Notices & Openings will be posted on these pages.
https://www.facebook.com/VirginIslandsCoralReefNPS/
https://www.facebook.com/virginislandsNPS/
https://www.instagram.com/virginislandsnps/
Please review the Hurricane Hole User's Guide carefully
Hurricane Irma
The storm refuge in Hurricane Hole will open to boaters September 2, 2017, (Saturday morning) to allow for storm preparations.
Press Release
Contacts
Email: viis_storm_permits@nps.gov
Phone: (340) 693-8950 EXT. 232
Weather Links
National Hurricane Center
StormCarib Caribbean Hurricane Network
The application deadline is May 19, 2017.
The Drawing will be held June 3, 2017 at 9 a.m.
Documents
2017 Hurricane Hole User's Guide
2017 Application
2017 Location Spreadsheet
Maps
Borck Creek
PDF
,
JPG
Otter Creek
PDF
,
JPG
Water Creek
PDF
,
JPG
Princess Bay
PDF
2017
Location Spreadsheet
Background & Design
Anchoring is not permitted within Virgin Islands Coral Reef National Monument (VICR), including Hurricane Hole, except for emergency or administrative purposes. In order to protect resources and to allow safe harborage during storm emergencies, a limited number of vessels may use Hurricane Hole as an emergency storm refuge from June 1 to November 30 each year, subject to the provisions described below.
The storm refuge system, a large, submerged chain on the ocean floor, is designed for berthing by vessels up to 60 feet in length, length on deck. The establishment of a storm refuge system in Hurricane Hole enables the continued use of this area as a safe haven with secure mooring for vessels during storm events while protecting the mangroves and other natural resources for which this monument was established. Hence, tying of vessels to mangroves or other shoreline vegetation live or dead is prohibited.
Storm Mooring
A permit holder's boat must be present in US or British Virgin Island waters at least fifty percent of the hurricane season (90 days between June 1 and November 30) to be eligible to retain and use berth. If a berth holder chooses to leave the area, they may notify the park and the berth will be assigned to a vessel from a waiting list;that vessel would then use that location for the rest of the season. If a berth holder does not retain an assigned berth for two subsequent years, he or she will forfeit the berth to the vessel temporarily assigned the berth from the previous year.