14-Mile Hike Introduction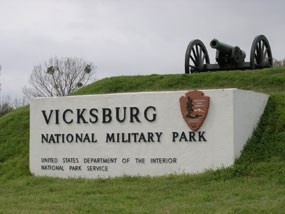 Welcome to Vicksburg National Military Park

Andrew Jackson Council and the National Park Service welcome you to one of the outstanding historic places in America, Vicksburg National Military Park. Our hope is that you will both enjoy and remember your visit here.

Where You Are

Vicksburg National Military Park is an area set aside and preserved as a memorial to one of the most famous sieges of all time. The North needed control of the Mississippi River, as it was an important supply line and commerce route to the Gulf of Mexico. Control also meant splitting the Confederacy in two, thus isolating those states west of the Mississippi, along with all the men and materiel they provided. from the eastern theater of the war. By the middle of 1862, the North controlled all of the Mississippi River except the stretch beginning in front of the bluffs of the Gibraltar of the South, Vicksburg, south to Port Hudson, Louisiana.

After several attempts to attack Vicksburg from the north and west, a successful plan to confuse the Confederate Army resulted in General Ulysses S. Grant surrounding Vicksburg. The Union Army made several furious charges against the Confederate works, but all failed. The only way Vicksburg could be taken was to isolate and starve the Confederate Army. With 72,000 Union soldiers surrounding 18,500 Confederate soldiers, there was no way to get food or ammunition into Vicksburg. After 47 days of fighting, Vicksburg was surrendered on July 4. 1863.

Park Layout

The Confederate Army fell back to Vicksburg and occupied a strong line of fortifications that extended along the top of a ridge on the Mississippi River south of Vicksburg and encircled the city to Fort Hill on the north. This line is now called Confederate Avenue. Directly across the ravine is Union Avenue. This road follows the siege line of the Federal forces. Numerous monuments, markers, tablets, and cannon are placed in the same positions occupied by these forces during 1863. As you hike and learn about the park, remember the thousands of Americans, many the age of the hikers, who so gallantly fought and died on these grounds. Every one of them, both South and North, was fighting for a cause he felt to be right.
Last updated: April 14, 2015