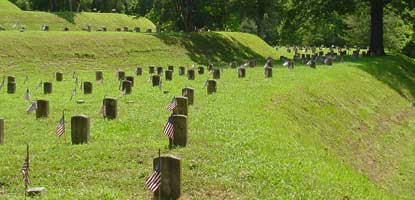 News Release Date:
September 24, 2013
Contact: Gary Castellino, 601-636-7395
During October, Vicksburg National Military Park rangers will again be presenting special Wednesday programs, with Vicksburg National Cemetery as the major topic. Talks will be held on October 2, 9, and 16, 2013, with two presentations each day at 11:00 a.m. and 1:00 p.m.
When was the cemetery established? Why were only Union soldiers allowed to be buried there? How did the two documented Confederate soldiers come to be interred there? These and many more interesting questions about the Vicksburg National Cemetery will be addressed. Described as "…the most beautiful of all the national cemeteries…" by Mark Twain in his 1883 work, Life on the Mississippi, the cemetery was a meticulously planned landscape which to this day remains an inspiring memorial to those who sacrificed their all during the Campaign and Siege of Vicksburg and later conflicts.
Program tours will begin in the USS Cairo parking lot located next to the National Cemetery. Admission to the Vicksburg National Military Park is $8.00 per personal vehicle, and all applicable Vicksburg and National Park Service annual passes are accepted. For more information on these special programs, contact Park Ranger Gary Castellino at (601) 636-7395.
These programs are part of Vicksburg National Military Park's Sesquicentennial outreach effort, 'Along the Campaign Trail,' which includes presentations conducted by a dedicated team of interpreters during a year-long effort to bring the story of the Campaign and Siege of Vicksburg not only to park visitors, but to schools, libraries, museums, and civic organizations throughout the region.
Information regarding entrance fees or programs can also be found on the park's website at www.nps.gov/vick/ or by calling 601-636-0583.