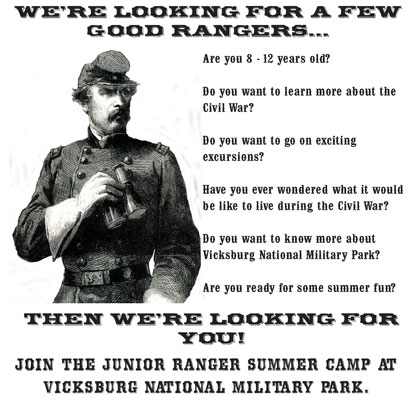 News Release Date:
June 18, 2012
Contact: Melissa Perez, 601-636-0583
Most of us have studied history in school, but how many can claim that they have actually lived history? Learned how to fire a cannon? Marched a rifle drill? Eaten Hard Tack and Johnny Cakes? A Junior Ranger can! Vicksburg National Military Park invites children to discover the fascinating history of the region by attending the annual Junior Ranger Summer Camp. This year's camp will take place July 16-20, 2012, from 9 A.M. to 1 P.M. each day.

During the weeklong camp, Junior Rangers will explore different areas of life relating to the Civil War; areas such as : Civilian Life, Soldier's Life, and Life in the Saddle, with at least one day devoted to a field trip.

The camp is free of cost, but space is limited. Participants must be between the ages of 8-12 years old. Applications can be requested by emailing e-mail us or picked up at the Vicksburg National Military Park Visitor Center. For further information contact Melissa Perez at 601-636-0583.