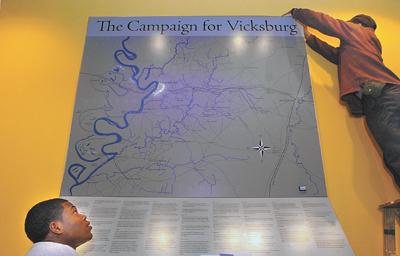 News Release Date:
February 28, 2008
Contact: Tim Kavanaugh, (601) 636-0583
Contact: Visitor Desk, (601) 636-0583
Contact: Terrence Winschel, (601) 619-2908
Fiber-optic map details Vicksburg siege
By Steve Sanoski, Vicksburg Post Article
[02/28/08]
Beginning today, visitors to the Vicksburg National Military Park will have a more complete picture of how the 1863 campaign of Vicksburg unfolded, thanks to a new fiber-optic map unveiled in the Visitor Center Wednesday.
"The only audio/visual presentation we've had up until this point has been the 18-minute video we show, and there are no maps included in it whatsoever," said park historian Terry Winschel. "That's the biggest complaint we've received over the years. People want to see a map of the entire campaign to better understand the events leading up to the siege of Vicksburg."
Aided by an audio narrative, the fiber-optic map chronologically details the many movements and battles of Union and Confederate Armies via blue and red lights on a large map of Vicksburg and the surrounding area. Beneath the map, brief textual descriptions of day-to-day events of the 1863 campaign follow the audio narrative to further complete the story.
With the push of a single button, 110 days of history is condensed into a six-minute presentation. The park has invested $90,000 into developing and installing the map.
Park administrators originally aimed to have it installed in 2007, but alterations in its design and function postponed the installation. Watching the very first run of the presentation Wednesday afternoon, Winschel said the final product makes both the wait and the cost all worthwhile.
"We finally have a visual representation of the entire campaign as it unfolds, which is going to allow our visitors to better understand and better appreciate the Vicksburg campaign," Winschel said. "It's something we've been working on incorporating for years, and we're delighted to finally have it in place."
In addition to the map, three new interpretive panels were also installed in the center Wednesday. The illustrated panels provide information on a variety of Civil War issues, including the causes of the war, the impact the Vicksburg campaign had on final outcome of the war and the unique role slaves played in the war.
The Visitor Center is at the Clay Street entrance to the 16-mile tour road that wends along siege lines from the war. The park, created in 1899, contains memorials to Union and Confederate soldiers who struggled in the pivotal battle here.