Youth Leadership Academy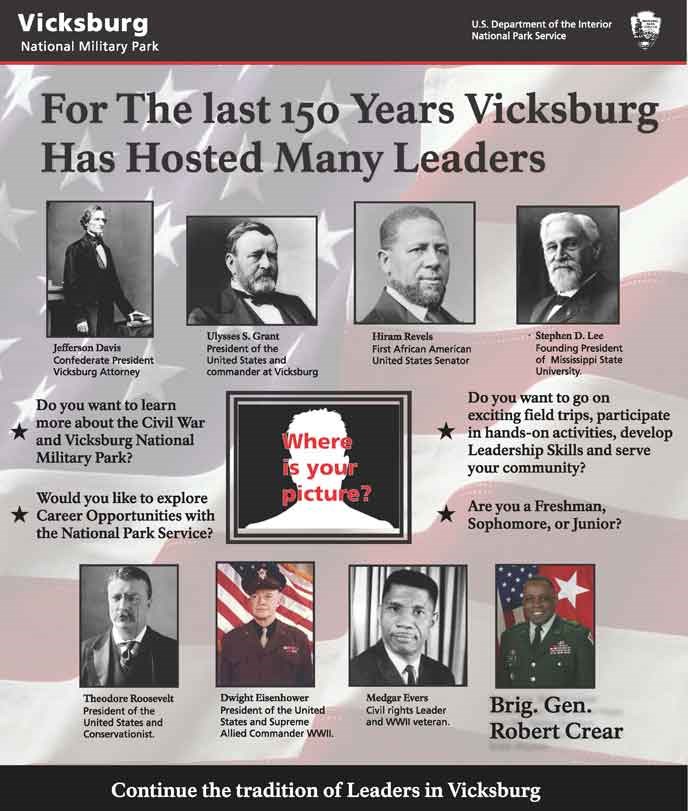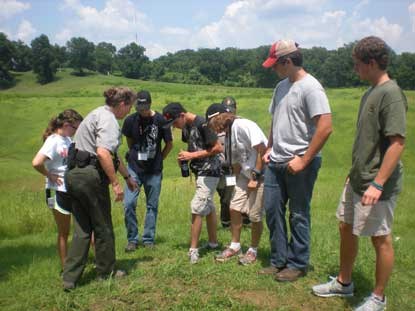 In conjunction with the commemoration of the sesquicentennial of the Campaign and Siege of Vicksburg, Vicksburg National Military Park hosted a Youth Leadership Academy which provided six local high school students the opportunity to help convey the mission of the NPS and discover the impact that the historical events of 150 years ago continue to have on their lives today.
Throughout the week of June 17-23, 2013, these young people were immersed in the culture and mission of the National Park Service and explored the relevancy of the Civil War in the 21st century. Candidates for the Academy were students living or attending school in the Vicksburg/West-Central Mississippi region between the ages of 16-18. Acceptance was based on essays submitted which answered the question, "A recent study conducted by the Pew Research Center suggested that most Americans believe the Civil War is still relevant to American politics and public life today. In what way do the events that occurred 150 years ago in our country continue to hold relevance in your life today?"
Led by VICK Museum Curator Elizabeth Joyner, with assistance from Park Rangers Jake Koch and Lindsay Smith, the students participated in interactive workshops, field trips, and dialogue with guest speakers to promote a general understanding of the National Park Service mission, including volunteerism, education and stewardship, and develop an appreciation for the important historical events that took place throughout the region. Activities ranged from an all-day tour of the Vicksburg Campaign sites with Brig. Gen. (ret.) Parker Hills, archeological exploration of sites in the park led by both VICK and U.S. Army Corps of Engineers archeology and curatorial staff, hands-on preservation and restoration of park monuments with park maintenance staff, and presentations by VICK cultural and natural resource staff to gain a greater understanding of the park's resource management objectives.

Regional tours included visits to Winterville Mounds Archaeological Park in Greenville, MS, where the students participated in an archaeological dig, the U.S. Fish & Wildlife's Tensas River National Wildlife Refuge in Tallulah, LA, where they assisted with a bird banding project and learned about timber management, as well as visits to additional NPS sites in the area.

By the end of the week-long program the students could identify the impacts these activities may have on their future career enhancement, leadership skills, community service, and project research and development skills. The students were tasked to show off their photojournalism creativity by preparing powerpoint presentations about their Academy experiences. The students are expected to take what they have learned back to their respective schools and become classroom leaders, helping to create and perpetuate a lasting legacy for their peers.
Last updated: August 1, 2018