Junior Ranger Days
Sound the bugles, beat the drums, and shine up those brogans because Junior Ranger Summer Camp is BACK in its new form.
Introducing JUNIOR RANGER DAYS – it's just like the camp but spread out more!

Junior Ranger Days are all of the Junior Ranger Camp programming that participants typically expect in our week-long camps but spaced out into six different sessions once a week.

Programs are designed to expose area youth to Vicksburg National Military Park and the National Park Service through fun and educational activities. These activities aim to spark student's interest in park history and natural and cultural resources, while showing them the value of having a National Park in their own backyard.

All program sessions are FREE but space is limited to 20 participants per session. Participants may sign up for all sessions or may pick and choose which sessions they would like to attend.

All Junior Rangers must be between the ages of 8 and 12. Registration is required. The application deadline is midnight on Wednesday, June 16th. Participants will be selected via a lottery system. Chosen participants will be notified of their selection by Friday, June 18th.

Consistent with CDC recommendations, people who are not fully vaccinated must continue to wear masks indoors and in crowded outdoor spaces. Masks are required for everyone on all forms of public transportation. Additional details are available at www.nps.gov/coronavirus.
Registration
Please visit the following link to access the registration form:
https://tinyurl.com/4d3jj8xk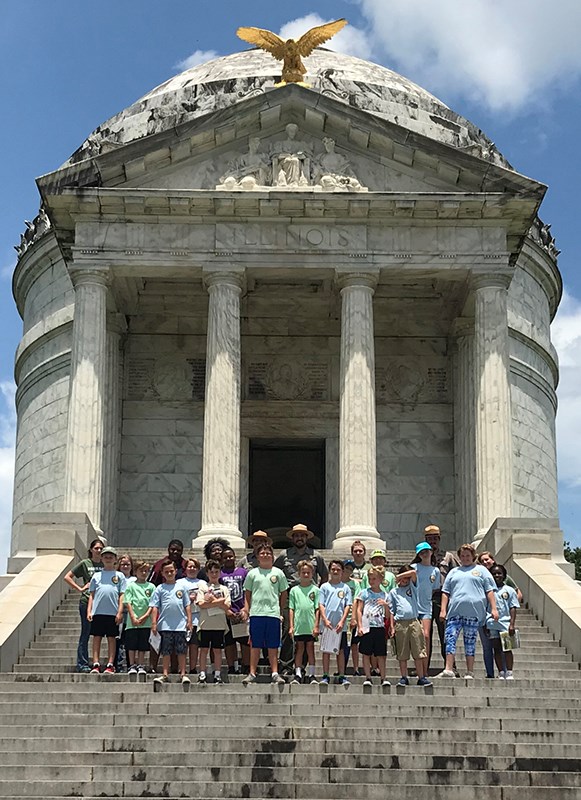 2021 Junior Ranger Days Schedule:

June 24th – The Civil War Garden with the Warren County Master Gardeners – Experience the Vicksburg NMP Heritage Garden, a hidden gem right in the middle of the battlefield. Participants will learn about the different types of flowers, herbs, fruits, and vegetables that would have been found in a Civil War-era garden including how those in the 19th century would have utilized them.

July 1st – A Soldier's Life for Me! – Experience what it was like to enroll in the army during the Civil War! Participants will partake in an exciting School of the Soldier program learning proper drill techniques, experience a live musket firing, and view the park film "Here Brothers Fought." Additionally, Texas' very own Douglas the Camel will be here to educate participants in the life of a Civil War camel!

July 8th – Biology on the Battlefield – Participants will join Natural Resource Manager, Chuck Beightol, for an exciting one-mile hike within the park complete with plant and animal identification. Participants will also learn about the importance of staying active, safety while outdoors, and how they and their friends and families can utilize their public lands for entertainment and exercise.

July 15th – A Sailor's Life for Me! – Spend the day at the USS Cairo Gunboat! Participants will enjoy an exclusive tour of the USS Cairo with Ranger Raymond Hamel before participating in a series of fun naval activities. One of the activities will include knot tying with members of the United States Coast Guard.

July 22nd – Recording the Landscape: Plein Air Watercolors on the Battlefield – Participants will spend the morning learning about the "Art Park of the World" with special emphasis on using art as a way to appreciate, document, and memorialize important lands. Participants will also learn about the practice of plein air painting, popular with impressionists in the years following the Civil War. Afterwards they will create their own watercolor masterpieces right there on the battlefield!

July 29th – Ranger for a Day Search and Rescue Program – Participants will join Law Enforcement Ranger John Castaldo as they perform a mock search and rescue! Learn how National Park rangers perform a search and rescue as well as how to identify those in distress. The session also includes an NPS-centric game!

If there are any questions, please contact Park Ranger Taylor Hegler at e-mail us or (601) 636-0583 ext. 2969.
Last updated: June 2, 2021