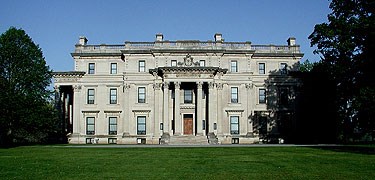 The Vanderbilt estate, historically known as Hyde Park, became part of the National Park Service in 1940 due in large part to the interest of FDR, who described the site as an arboretum. The President valued the estate for its historical integrity, extraordinary river view, collection of aged specimen trees, and its remarkable state of preservation.
Hyde Park is a cornerstone of the Hudson River Valley's cultural heritage. The designers and architects who created this estate were among the leaders in their fields. The centerpiece, the house itself, is a premier example of the American Beaux-Arts style. The architect, Charles Follen McKim, was at the height of his artistic expression.
This is America's mansion. When you visit Hyde Park, we want you to feel at home. We strive to offer the same hospitality and attention to detail that was characteristic of the Vanderbilts and their staff nearly a century ago.