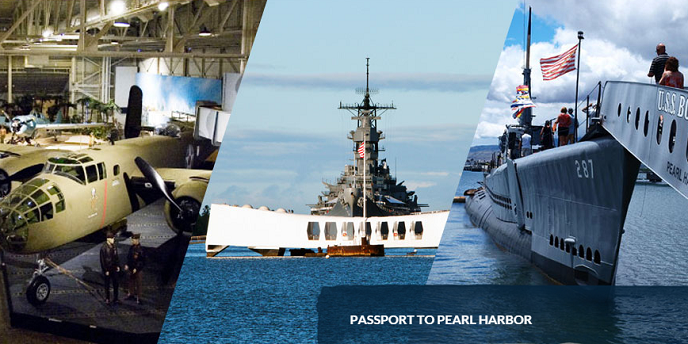 The Passport to Pearl Harbor, available via www.recreation.gov, is a great way to see all the Pearl Harbor Historic Sites with one ticket.

The Passport includes a free ticket to the USS Arizona Memorial for the time and day of your choosing. This includes a short documentary in our theater, a boat ride to the memorial, and time at the memorial itself. You cannot purchase a Passport on www.recreation.gov if no USS Arizona Memorial tickets are available.

**Passports can also be purchased at the visitor center. Passports purchased at the visitor center do not include a free USS Arizona Memorial ticket. If you're also interested in the USS Arizona Memorial program, you will need to get a free, first come, first served walk-in ticket at the USS Arizona Memorial ticket desk.**

The Passport is $72 per ticket and pays for the following:
Please arrive early to the Pearl Harbor Visitor Center, if you plan to make the most of your Passport. It takes about 8 hours to see everything available to you.

If you want to divide up your time at Pearl Harbor, the Passport can be used for a second day within a consecutive seven-day period. To extend, simply check in to the Pearl Harbor Historic Sites ticket counter, located in the courtyard of the visitor center. There is a fee of $10 per ticket to extend to a second day.

Please note: "Passports" purchased from any website other than www.recreation.gov may or may not include the free USS Arizona Memorial program ticket. Please be sure to read the fine print so you know what is and is not included with your purchase.