Passport To Pearl Harbor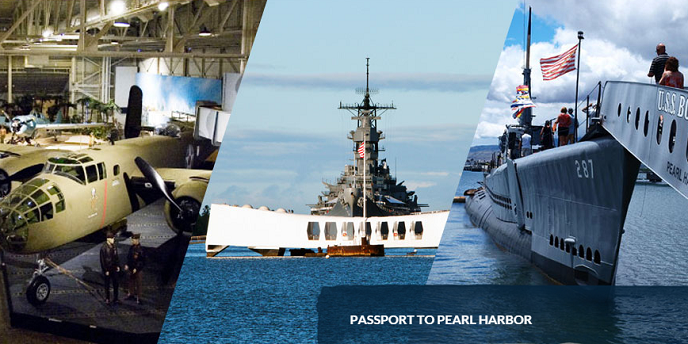 The Passport to Pearl Harbor is a great way to see all the Pearl Harbor Historic Sites with one ticket. It includes a free USS Arizona Memorial program timed ticket, the USS Arizona Memorial narrated tour, and admission to all three of our partner sites: the Battleship Missouri (on Ford Island), the USS Bowfin Submarine Museum and Park, and the Pearl Harbor Aviation Museum (on Ford Island).
The Passport is $72.00 for adults and $35.00 for children, plus a non-refundable $1.00 convenience fee per reserved ticket.
Bus transportation from the visitor center to nearby Ford Island is included (about a 10-minute ride, with buses leaving every 15 minutes).
Passports can be extended for an additional day for $10 per ticket. Please ask about extensions at our partner sites' ticket desk.
Passports cannot be purchased on www.recreation.gov if there are no corresponding USS Arizona Memorial tickets available.
Please arrive early to the visitor center to make the most of your Passport. It takes 6-8 hours to see everything available to you. Even if your reserved ticket time is later in the day (i.e., 1:00 or 2:00 PM), you will still want to come to the visitor center early (we open at 7:00 AM) to have time to see the other sites. The timed ticket is only for the USS Arizona Memorial. All the other sites can be visited any time throughout the day.

Passports can also be purchased at the visitor center, but these do not include a free USS Arizona Memorial ticket. If you also want a ticket for the USS Arizona Memorial program, you will need to get a free, first come, first served walk-in ticket at the USS Arizona Memorial ticket desk.

If you prefer to buy individual tickets for each partner site, you can do that at the visitor center. No reservations are required; these tickets do not run out.

Please note: "Passports" purchased from any website other than www.recreation.gov may or may not include the free USS Arizona Memorial program ticket. Please be sure to read the fine print so you know what is and is not included with your purchase.
Last updated: April 26, 2019