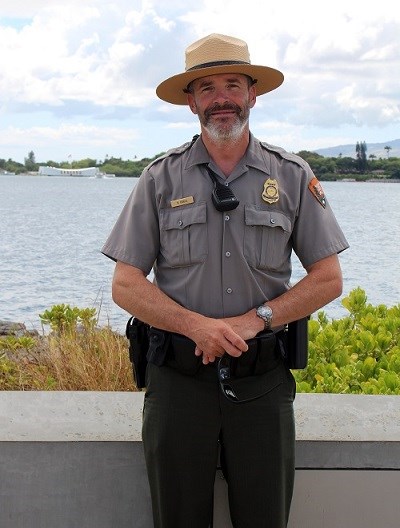 Chief Ranger Randy Biddle
Randy Biddle oversees the protection of visitors and resources at WWII Valor in the Pacific and Honouliuli National Monuments. He is tasked with enforcing the laws and regulations at both sites, but also, with the addition of Honouliuli, he will now have new responsibilities of wildland fire and emergency response coordination there.
Randy grew up in the Adirondack Mountains of Northern New York and has traveled extensively throughout North America and Asia. He is passionate about getting involved in and experiencing new cultures. He speaks Japanese and lived in Japan for seven years, where he studied in university, taught in Japanese high schools, and worked for the Japanese government in the 1998 Nagano Winter Olympic Games.
He became a National Park Service ranger in 2002 and served at several parks, to include Denali National Park, Bryce Canyon National Park, Death Valley National Park, and most recently Rocky Mountain National Park. In his capacity as a park ranger, he has worn many hats such as enforcement officer, structure and wildland firefighter, Emergency Medical Technician, and has served in many positions within Search and Rescue operations.
Randy enjoys spending time with his family in the outdoors. He especially enjoys paddle boarding, mountain biking, and skiing, and is returning to an old pastime from his younger days, surfing.