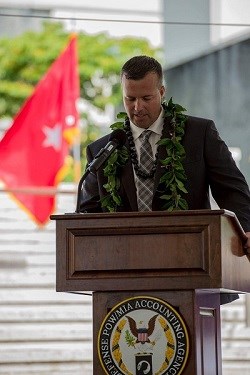 Jay Blount
Jay oversees the planning and implementation of visitor and educational programs at the monument. He is directly involved in operations at the Pearl Harbor Visitor Center, which sees an average of 1.6 million visitors a year, and works closely with the monument's Pearl Harbor Historic Sites partners and the US Navy.

Previously, Jay served as the superintendent of the Sicily-Rome American Cemetery in Nettuno, Italy, and before that, as assistant superintendent at the Meuse-Argonne American Cemetery near Verdun, France. Prior to his work in Europe, he operated a small business as a sport-fishing yacht captain and professional offshore fisherman. This experience came after serving four years as an active duty armor officer in the U.S. Army.

Jay is a 1998 graduate of Wake Forest University with a B.A. in French and communication and enjoys fishing, traveling and spending time with his wife and two children.