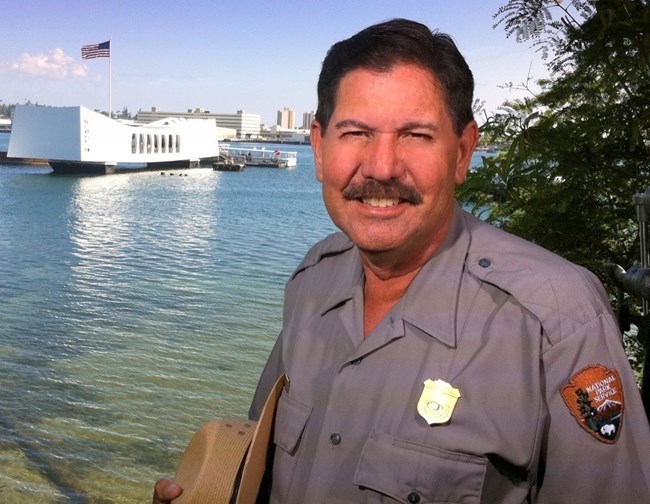 Daniel Martinez
Daniel Martinez is the chief historian for the WWII Valor in the Pacific National Monument, including the USS Arizona Memorial and visitor center, the USS Utah Memorial, the USS Oklahoma Memorial; the Chief Petty Officer Bungalows on Ford Island; and the mooring quays that were part of Pearl Harbor's "Battleship Row."
"I assist visitors, researchers, and staff with any historical question or inquiry regarding the Pearl Harbor attack and the Pacific War," Daniel says of his day-to-day duties.
His grandfather worked as a foreman at the Red Hill Underground Fuel Storage Facility in Pearl Harbor when the Japanese attacked there in 1941.
"There was this identification with history, and I think that was indelible," he says.
Growing up, Daniel's interest in history grew as his family went on cross-country trips to Florida from their home in Los Angeles, California. Along the way, they would stop at historic sites, including the Alamo in San Antonio, Texas, and Vicksburg National Military Park in Mississippi.
Later on, he majored in history and communications at California State University-Dominguez Hills in Carson, California. Daniel worked as a seasonal from 1979-84 for the National Park Service at Little Bighorn Battlefield National Monument in Crow Agency, Montana before joining the WWII Valor in the Pacific National Monument.
"I have the privilege from time to time to take people of importance on a tour of the memorial," Daniel says, including four presidents: George H.W. Bush, Bill Clinton, George Walker Bush, and Barack Obama. "I've worked with many gifted and considerate National Park Service employees. I have the honor to be employed for a great agency, and for the most part, it's been an unbelievable privilege to do this."