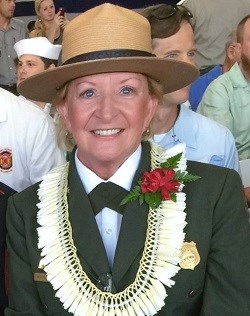 Patricia "Patty" Brown
Patty Brown is the chief of business services and administration at WWII Valor in the Pacific National Monument (VALR). Born and raised in Beaumont, TX, she joined the Marine Corps at the end of Vietnam in March 1974 and served 20 years. During her time in the Corps, her primary jobs were in the administrative and protocol arenas working for special and general staff officers.

Following retirement, she pursued her bachelor's degree in business and administration, with a minor in finance. Entering the civilian federal workforce in 1997 in Okinawa, Japan, Patty worked as a secretary and later as the administrative officer at MCB G-6 Telecommunications, Marine Corps Base, Camp Butler. In 2000, she moved to Oahu and in 2001 secured employment at Marine Corps Base Kaneohe as the Transition Assistance Program Manager. In 2003 she accepted a position with the Government Group of Chaney Brooks Real Estate Company, Honolulu, as the director of West Oahu Homes (Iroquois and Barbers Point), overseeing all operations of more than 64 employees and 3,000 homes.

In 2004, wanting to get back to federal employment, Patty became the administrative officer at the USS Arizona Memorial in Honolulu. This was Patty's first job with the National Park Service. She has seen many changes over the past 12 years, the biggest being the expansion of her division in 2007 to include commercial services, which approves and oversees all park permitting (filming, special park use and the commercial use authorization permits - largest transportation permit in the Pacific West Region), as well as the signing of the Presidential Proclamation by President Bush in 2008.

Brown has a personal connection to the site, being prior military and having lost three uncles during the war. She has a vested interest in the true treasures of the site, our Pearl Harbor Survivors, and embraces the relationship she has developed with the military communities, the more than 100 commercial transportation companies, our Pearl Harbor Historic Site Partners, and our cooperating association (Pacific Historic Parks).

Patty has a daughter, Ashley; son-in-law, Bernie (US Navy); a granddaughter Julianna; and grandson Victor who reside in Virginia Beach, VA. Patty's son Randall resides in Aiea, HI.