Volunteers
Meet our amazing volunteers at the Pearl Harbor Visitor Center!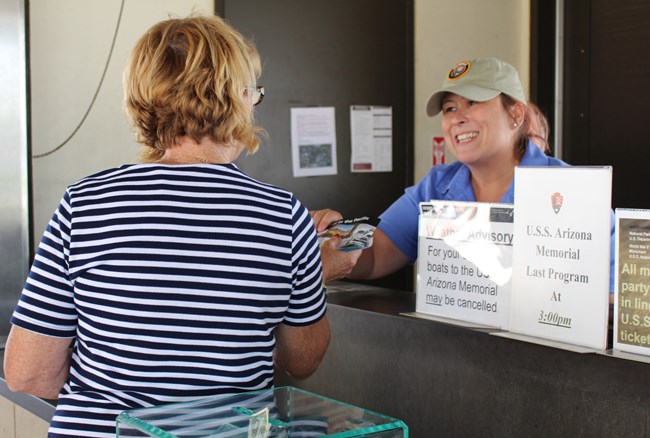 Following her Air Force husband, Ann Marie P. Yager moved to Hawaii in the summer of 2017.

"My husband and I were married in the Great Smoky National Park and had our honeymoon in Acadia [National Park]," she said. "We both love the National Park Service and its mission."

In November 2017, Ann Marie began volunteering at the Pearl Harbor Visitor Center, helping at the front desk by "demystifing" the visitor experience. She says takes a lot of personal satisfaction in making sure visitors make the most of their time at the monument.

Hands down, she says, the highlight to any volunteer day is the swearing in of a National Park Service Junior Ranger. "The kids embrace the exercises and are beginning to develop their own love for one of our country's greatest gifts – the National Park Service," she said.

She also enjoys working with the career park staff. "It is a privilege to work with so many committed professionals who have dedicated their careers to preserving and sharing the history of this special place," she said.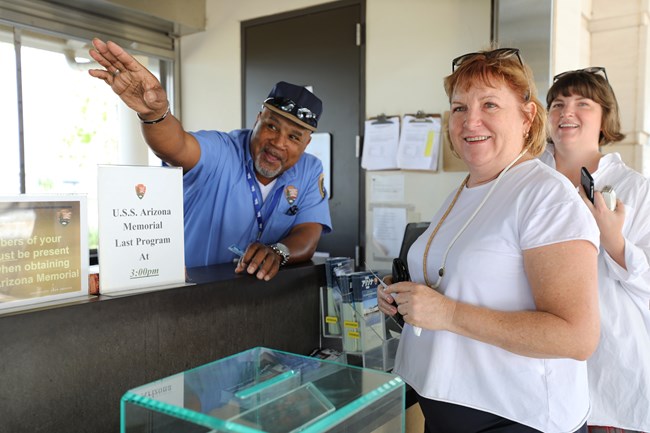 "I wear this volunteer uniform with pride, just like I did when I was on active duty in the United States Marine Corps."

Whether it's assisting visitors at the theater, handing out tickets, or giving briefings and directing people to the bathrooms, VALR volunteer Tony Stewart says it's given him a sense of purpose.

"I get to interact with so many people," he said. "I love dealing with different people, especially from all cultures and all walks of life. So it's very gratifying, and it's very humbling, as well."

Originally from North Carolina, Tony was stationed in Oahu in 2004. When he retired from the Marine Corps, he never left the island. He started volunteering and was drawn to Pearl Harbor in part due to his interest in history.

"I've always had a passion to know more about World War II and how it started," he said. "This is where we got into the war and this is where the ship [is] that the peace treaty was signed on. On top of that, I served on the Missouri. So I have connections from a military standpoint."

He said he's thankful to be a part of the team at VALR. "Everybody has that one thing, is that they care," he said. "And that's rare. I haven't met one person that wasn't compassionate or concerned about the welfare of our guests."
Park Volunteer Ann retired from Pearl Harbor as a Dept. of Defense civil servant several years ago. She's also a retired US Army Reservist and has lived in Hawaii for 20 years.
"When I worked at Pearl Harbor, I would look out the window at the Arizona Memorial, and knew I wanted to help people understand what happened there, and that those men need to continue to be honored," she said. "If by volunteering I could achieve that, then that's how I would do it."
Ann has volunteered at VALR for three years. It's the continuing need to educate visitors about Dec 7 that keeps her coming back.
"The best part of my volunteer day is being in the Shrine Room and telling people about the men within Arizona - those who've been there for 75 years, and those who chose to return to rejoin their shipmates," she said. "The other favorite thing to do is talk with folks. You never know what you can learn from them."
Ann, thank you for your hard work and dedication!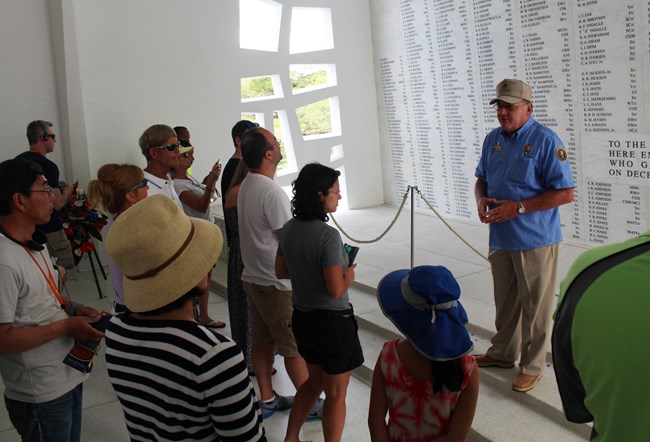 "Safety is first out here. After that, once everyone's aboard and nobody's leaning over the rails, you can start talking to people."
Park Volunteer Rick smiles as he says it, but it's clear he's serious about visitor safety on the USS Arizona Memorial. He volunteers here two times a week, five or six hours per day, and helps park rangers answer questions, give talks about the USS Arizona and her crew, and escort visitors on and off the memorial.
After 23 years in the US Marine Corps and 21 years teaching for Hawaii Pacific University, Rick retired from the workforce in 2011. About three years ago, he started volunteering at Valor after he visited the memorial again with his grandson.
"I hadn't been out here for a while, and all the sudden I said, 'Wow, this is a very special place.' I saw a volunteer out here, [and] I saw the rangers doing their professional work, so I inquired."
His favorite part of volunteering at the memorial?
"You get a lot of questions. You can see the thirst that people have for more information. Once they come out here and set their eyes on this, it's a joy to explain to them the significance of this place," he said. "I want them to take something back that's not necessarily in their cameras … but in their head and their heart. When you speak to them about the place… you can tell that they are absorbing it. It's gratifying that they are getting as much as they can out of the experience here."
Thank you for all you do, Rick! We are so grateful to you and all our volunteers for the hard work you do each and every day.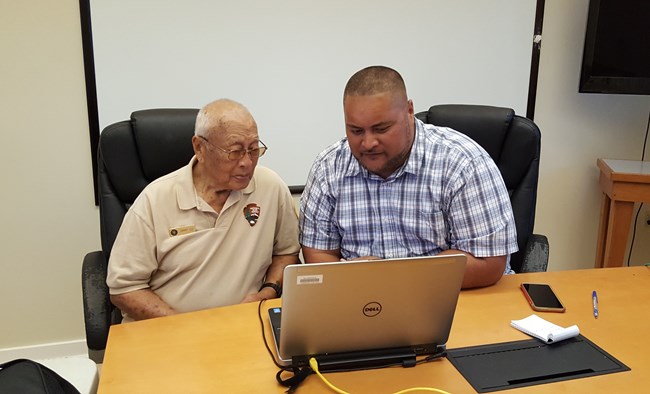 "I thought I'd just take it easy, but life in retirement gets pretty boring!"
That's what Park Volunteer Jimmy, 87, said about leaving the workforce in 1998. So he started volunteering with Pacific Historic Parks, the Pacific Aviation Museum, and with disabled veterans at Tripler Army Medical Center. He also volunteers 10-30 hours a week at Valor, mostly with education (ParkEDU).
He has a very personal reason for volunteering at Valor.
Jimmy was a civilian witness of the Pearl Harbor attack. Only 11 years old on Dec. 7, 1941, Jimmy watched the attack unfold from the railroad tracks near his house, which happened to be along the shores of Pearl Harbor. He could see the planes coming in and dropping torpedoes.
Now he gives tours at the visitor center, talks with visitors, and helps develop educational programs with ParkEDU.
"I've had the opportunity not only to meet people from all over the world, [but] I was able to share, from the young to the old, a little bit of history," he said. "I talk to and visit students in school. Getting out with the schools with the Park Ed team has been the greatest and best experience that I've had."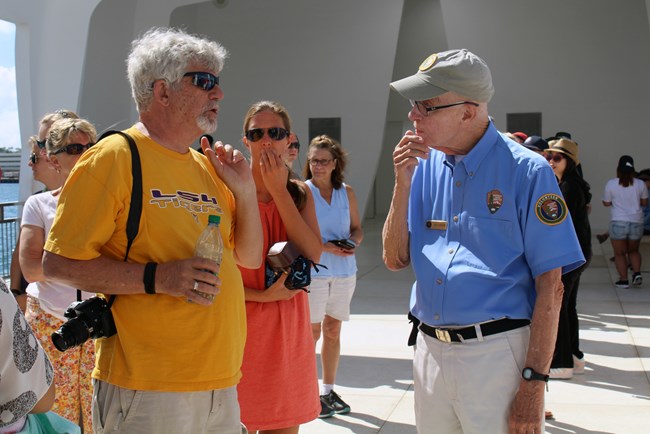 Park Volunteer Bob, who goes by "Uncle Bob," started volunteering at Valor about three years ago, spending about 10 hours a week at the USS Arizona Memorial, where he talks to visitors about what happened here on December 7, 1941.
"I'm a big fan of American history. I was in the Navy for a couple of years, so I have that experience," he said. "I like learning more and sharing what I know."
Uncle Bob, who has lived in Hawaii for 51 years, also volunteers at the Cancer Society and helps new businesses start up in Waianae, Hawaii. Before volunteering at Valor, he was a tour guide on the USS Missouri for 13 years.
The best part about volunteering at the memorial, he said, is that the visitors want to be there.
"None of our visitors have to come out here," Bob said. "This is all voluntary on their part. They still come out, 4,000 plus a day, 75 years after the event, which I think speaks very well for the people that want to come out here. Most of them weren't around at that time. They know a little bit about what happened at Pearl Harbor, but they don't know the details of it so much, so that's our job, to fill in the details. And I enjoy doing that."
Uncle Bob, thank you for everything you do for the park, staff and visitors!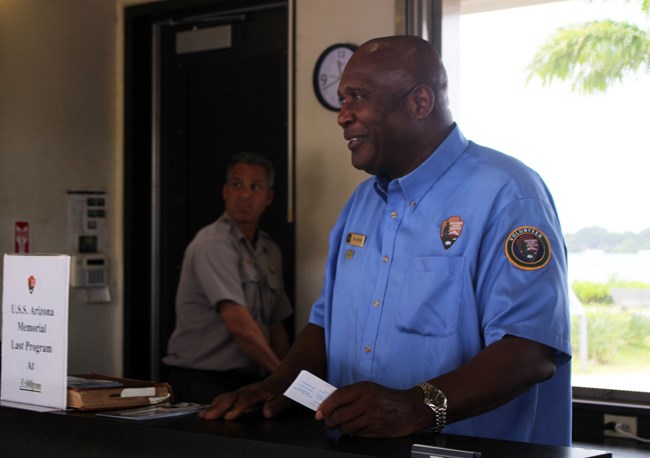 Park Volunteer Mack has been volunteering at the park since 2012. He retired from the FAA in 2008 and was a hobby HAM radio operator at the USS Missouri. Through that hobby, he was enticed by a fellow operator to volunteer with us at Valor. He's been here ever since, coming at least twice a week on Tuesdays and Thursdays. He's averaged about 750 volunteer hours per year!
Mack can always be found at the front desk making visitors and rangers laugh and can be frequently heard using his coined phrase of "super duper good" when asked how he is any given day. When asked why he stays working with us, his response is simply, "I like people."
Mack, thank you for all you do for the park, your fellow volunteers and staff members, and our visitors!
Last updated: September 6, 2018