Day Hiking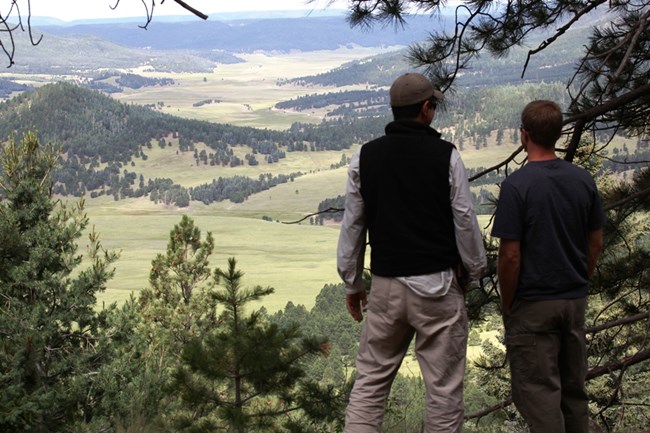 Valles Caldera has miles of hiking trails (
map
). They range from flat valle strolls to steep climbs. If you are new to the preserve consult with rangers at the
Valle Grande Contact Station
. They can provide advice about which trails are appropriate to different fitness and experience levels.
Much of the Valles Caldera is over 8,000 feet in elevation. Even very fit individuals coming from lower elevations may experience altitude problems. Symptoms include headaches, shortness of breath, insomnia and rapid heartbeat. After a few days your body will have made some physiological adjustments to higher elevations, but full acclimation may take weeks. To minimize symptoms drink plenty of fluids, avoid alcohol, don't skip meals, and get plenty of rest.
Although you may not feel thirsty, the "thinner" air at high elevations actually results in increased water evaporation from your lungs. Again, drinking extra water may prevent a bad headache or other altitude symptoms.
Ultraviolet light is stronger in the mountains because there is less atmosphere for the sunlight to pass through. Wear sunscreen, a hat, sun glasses and consider wearing a long-sleeved shirt if you are out in the sun for an extended period.
If you have never hiked before or are traveling with children, check out the recommended shorter trails, such as the La Jara Loop Trail or the Pond Trail.
Ranger-led
walks can increase your confidence while you learn more about the park. Valles Caldera National Preserve is a great place to discover how traveling by foot brings you closer to nature.
A Few Things to Remember While Hiking:
Stay on established trails: taking shortcuts causes trail erosion--and is both dangerous and illegal.

Carry (and drink) plenty of water: a leading cause of injuries on the trail is dehydration (a minimum of 1 quart (32 ounces) every 2 hours). Be sure to treat stream or spring water.

Horses and mules have the right of way on trails.

Trails are not maintained nor are they regularly patrolled: travel carefully and at your own risk.

Carry a headlamp on every hike, even short day hikes.

Sturdy footwear with good traction might save an ankle.

Minor/moderate health or medical issues can be easily exacerbated by hiking up the steep trails—know your limits and pay attention to how you're feeling.

When hiking in a group, each member of the group should carry some water and food in case the party becomes separated, and the group should make a plan for where to meet up (at the vehicle, at the trailhead, etc.) if the members become separated.

Only service animals are allowed in the preserve, no pets. Dogs are allowed on specially designated trails (La Jara, Valle Grande, and Coyote Call) and must be leashed at all times.
A backcountry vehicle permit is required if you wish to drive your personal vehicle into the backcountry before beginning your hiking adventure. Permits are limited and available seasonally as conditions allow. No permit is needed to hike into the backcountry from the Valle Grande Contact Station.
Remember, safety is your responsibility.
Last updated: February 15, 2017