Backcountry Access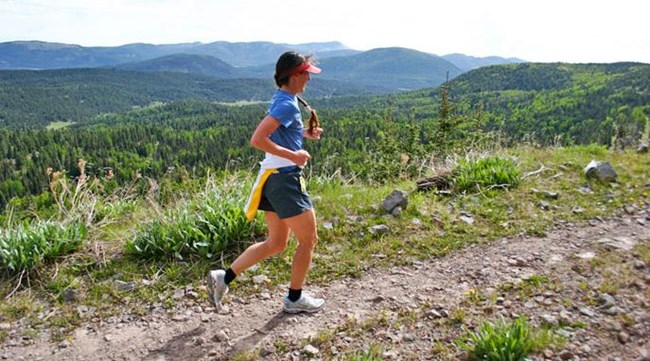 Some of the best adventures take place in the Valles Caldera backcountry. Visitors will find ample opportunities to
hike
,
mountain bike
,
horseback ride
,
fish
,
cross-country ski
,
snowshoe
, and
view wildlife
.
Visitors can access the backcountry by foot, mountain bike, horseback, or personal vehicle. For those accessing by personal vehicle or horse, a permit is required. A permit is not needed if accessing by foot, mountain bike, skis, or snowshoes.
Vehicle Permits
Up to 35 vehicle permits will be available at one time during the summer season (mid-May through October) as conditions allow. The backcountry is inaccessible to vehicles past the Cabin District from November 1 to May 14. Permits are only valid between operating hours on the date of access; no overnight access is granted. There is no additional fee for this non-transferable permit beyond the preserve entrance fee. Permits can be revoked for violations of preserve rules & regulations.
Vehicle access may be unavailable if the roads are unsafe for travel. Closures will be posted on the alerts webpage.
Speed limit is 10 mph in developed areas around buildings and 20 mph everywhere else within the preserve.

Roads are unpaved and can be heavily rutted, have a washboard surface, and can be quite rough in spots. The road can be very slick during and after rain, and flash flooding and washouts may occur during periods of heavy rains, especially during monsoon season (July-August). High clearance and/or four wheel drive vehicles are recommended.

The permit allows the permit holder and all passengers (minus pets) that can legally fit in the vehicle. At this time, pets are prohibited in the majority of the preserve with the exception of service animals. Pets are prohibited past the entrance station, even in your vehicle, at this time.

Passenger vehicles and motorcycles are permitted, but 4WD or high clearance vehicles are strongly encouraged. Buses, off-road vehicles (ATVs, UTVs, etc.) and non-street legal motorcycles are not permitted.
Permit holders are required to return to NM-4 no later than the gate closure time listed in the operating hours. Exit the preserve via the same route as entry. No other exits are designated.

Smoking is allowed only inside your personal vehicle: remember cigarette butts are trash and need to be disposed of properly.

Remember, safety is your responsibility. Information EVERY visitor needs to know.
Last updated: November 30, 2021