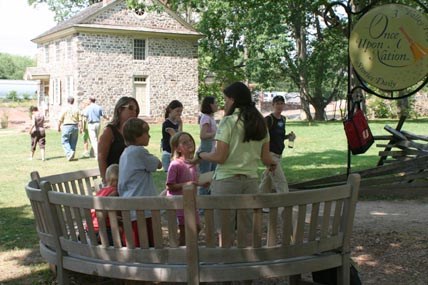 July 12, 2008
We were in Valley Forge and Philadelphia from Sat 7/5 until today (7/12). We just got back to Rochester, NY and the first thing our daughters (age 11 and 7) wanted to do was contact someone at your office and pass along a note of acknowledgement, to all the story tellers for a job well done. Everyone of them told a story with great enthusiasm and answered questions from the kids and adults. The kids couldn't wait to complete the map at Valley Forge. As parents we are lucky that our kids have an interest in American History but without a doubt your program kept them motivated and willing to keep walking to the next bench so they could hear the story and get the star.
Mike, Kate, Bridget and Kenny
July 5, 2008
Just a note to compliment Historic Philadelphia on the Once Upon a Nation Program. My family was in Philadelphia on July 2, and Valley Forge on July 3. With a four and six year old, the challenges of short attention spans and age can be difficult to deal with.
The Once Upon a Nation story tellers are a great way to get children engaged in the events of the time, through the lives of average people, not just the "founding" fathers. We were able to visit half of the benches in Philadelphia (Betsy Ross house back to Independence Hall) and all four of the story tellers at Valley Forge. We found them all to be knowledgeable, enthusiastic, and entertaining.
We had originally thought to spend 1-2 hours at Valley Forge before leaving for the long drive home to Western PA. Arriving at 9 AM, we left at 2:30 PM, with happy, interested, and exhausted children.
Kevin - Waynesburg, Pennsylvania