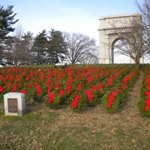 Thanks to a grant from PECO Energy and in partnership with Wreaths Across America, for the second year in a row Valley Forge National Historical Park will be one of the locations across the Nation that will participate in a wreath laying ceremony as a way to remember, honor and teach about the service and sacrifices of our Veterans.
At Valley Forge, in commemoration of the over 2,000 men and women who died during the 1777-1778 encampment, 2,000 wreaths will be placed around the National Memorial Arch and will remain in place through the remainder of December and into mid January.
We need volunteers to help make this event a success!
On Friday, December 9th, we are looking for volunteers to help set up the stands starting at 10:00 am in preparation for December 10th wreaths installation at the National Memorial Arch.
On Saturday, December 10th, we need volunteers to help place the wreaths on the stands. Volunteers are being asked to meet at the National Memorial Arch at 10:00 am. Then at 12:00 noon there will a commemorative moment of silence honoring those who served and died here during the American Revolution.
Please bring your family and friends and join us as we honor our Veterans. This is a great opportunity to involve the younger members of your family in an event that they may well remember for years to come.
If you want to volunteer to help on both or either day, please email Valley Forge NHP Volunteer Program Manager at ernestine_white@nps.gov or call 610-783-5384.
To learn more about Wreaths Across America please visit: http://www.wreathsacrossamerica.org
Special thanks to the Friends of Valley Forge Park for their efforts in making this event possible. To learn more about the Friends visit http://friendsofvalleyforge.org/