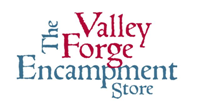 Whether you are planning a group bus tour or a family outing to Valley Forge,The Encampment Store will help you and your guests experience and explore the history, personal stories, and the landscape of one of our nation's most significant Revolutionary War period sites.
Our official National Park Service-trained tour guides will board your bus or personal vehicle and lead your group through an enlightening and entertaining tour of the park. Tours last approximately two and a half hours and include stops at the Muhlenberg Brigade huts and the original house that was once General Washington's Headquarters.
Reservations are required.
Contact The Encampment Store at 610-783-1074 or tours@encampmentstore.org for more information, availability and fees, and to make your reservation.