May 6, 1778
The Continental Army holds a special ceremony on the Grand Parade grounds of the encampment, in celebration of word of the French Alliance, that has been signed in Paris by Benjamin Franklin. Accompanied by the booming of scores of cannon, thousands of soldiers fire their muskets in a feu de joie, and the whole army yells their huzzas to the King of France and the American Congress.
About three-quarters mile down the Joseph Plumb Martin Trail, you will see a large church and tower across the street. This is the
Washington Memorial Chapel
. Among other events, every year they celebrate the French Alliance here.
Use the image-links below to learn more, or to navigate the timeline.
March 24, 1778
Baron von Steuben starts training the Continental Army.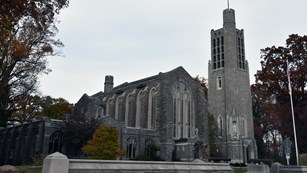 Washington Memorial Chapel
Visit the chapel grounds and experience art, history and remembrance in a picturesque setting.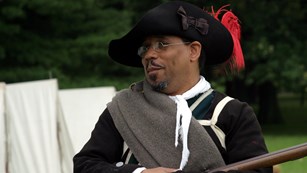 May 15, 1778
The racially integrated First Rhode Island Regiment arrives.
Last updated: April 14, 2016