March-in of the Continental Army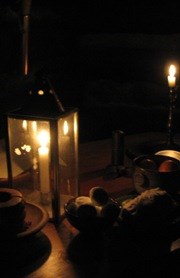 Monday, December 19
6PM-8PM
Begin your evening at the Visitor Center. General Washington will greet guests and speak on a variety of topics. The Historical Harmonies-Colonial Revelers will entertain with songs of the period. Light refreshments will be served and The Encampment Store will be open for holiday shopping.
Soldiers will lead visitors on 20-minute, quarter-mile candlelit walks from the Park's Theatre, just near the Visitor Center, to the Muhlenberg Brigade area. Muhlenberg will be patrolled by Washington's Guards and encamped with soldiers and camp followers.
Attendees will learn about hut construction and civilian life at Valley Forge, report for duty at the regiment's headquarters and warm up around the campfire listening to soldiers' tales.

Follow the event live on twitter @ValleyForgeNHP and get park updates, event information, and more on Facebook.
Last updated: March 31, 2012