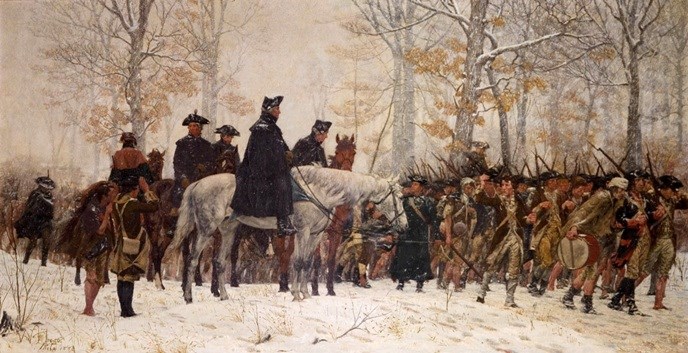 Location: Visitor Center/Muhlenberg Brigade | Map
Date/Time: December 19th, 6:00 PM to 8:00 PM
Fee Information: Free
Contact Phone Number: 610-783-1099
On December 19, 1777 General George Washington's Continental Army "marched in" to Valley Forge to set up winter quarters. This annual event commemorates their arrival and determination to persevere against insurmountable hardship and difficult conditions during their 6-month encampment. Join us this December 19th and experience an evening in Valley Forge. Take a candle-lit guided walk to the Muhlenberg Brigade huts where you'll encounter a living continental camp. Warm up in the Visitor Center with 18th century music, refreshments, and more!
Visitor Center
18th Century Music
Enjoy musical performances and join in with familiar carols and traditional colonial dancing.
Meet General Washington
Mingle with the Commander-in-Chief of the Continental Army, General George Washington, as portrayed by Dean Malissa, and learn about the trials and tribulations of our nation's war for independence as of December 1777.
Sample American Heritage Chocolate
Watch a historic chocolate making demonstration and sample an 18th century hot chocolate recipe featuring American Heritage Chocolate.

The Encampment Store will be open for holiday shopping and have light refreshments.

Education Pavaillion
Musical performances every half hour from 6:00 p.m. to 8:00 p.m.

Theater
Candle-lit ranger-led walks depart approximately every 15 minutes. Travel with a Continental Soldier 1/4 mile along the Joseph Plumb Martin Trail, which will be patrolled by Washington's Guards, to the Muhlenberg Brigade Huts. Last walk of the evening departs at 7:40 PM.

Muhlenberg Brigade Hut Area
Tour the Huts
Each hut focuses on a different encampment theme including: hut construction, soldier life, supplies, the army's impact on civilian life during the encampment, and camp followers. A hands on children's activity station will also be located along the company street.

Warm Up Around the Campfire
Hear stories about the first three years of the American Revolution by Continental Soldiers around the fire pit.

Visit the Redoubt
Take a walk beyond the company street to get your first chance to experience the new refurbished Fort John Moore / Redoubt #2, an earthen fortification which would have been built by the army to help protect the encampment against a possible British attack.
---
This event is weather dependent.


Check the park website, Facebook, or call 610-783-1000 for cancellation notices.
You can also stay informed of closures and emergency information by signing up for the park's text alert system.
To sign up text VFPARK to 888777 or create an account on Nixle.com.