March 3, 1778
In a desperate hour the Commander-in-Chief turns to his most trusted Lieutenant, Major General Nathanael Greene of Rhode Island, to bring order out of the chaos that reigns in the army quartermaster department. Within only two months there is marked improvement.
About a mile and a half further down the Joseph Plumb Martin Trail from the National Memorial Arch is
Artillery Park
. Do you see all the Cannons formed up in a "U" shape? Imagine 40-50 more cannons and over 8,000 soldiers in need of food and equipment. Keeping such an army supplied was no easy task.
Use the image-links below to learn more, or to navigate the timeline.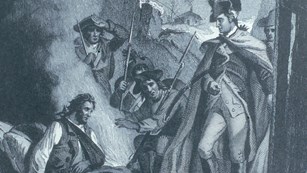 February 24, 1778
Death, disease and desertion cause the army to shrink to 6,000 soldiers.
Artillery Park
Learn about the artillery units and General Knox.
March 24, 1778
Baron von Steuben starts training the Continental Army.
Last updated: April 14, 2016