Trails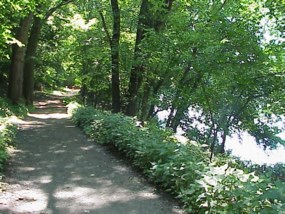 Valley Forge National Historical Park contains 28 miles of authorized trail that are popular for hiking, biking and horseback riding.
The park contains 19.5 miles of designated, marked, hiking trails. The 6.6 mile Joseph Plumb Martin Trail connects the key historic and interpretive sites. The Horseshoe Trail begins near Washington's Headquarters and runs to the Appalachian Trail. Other hiking trails include such footpaths as the relatively flat River and Valley Creek trails, and the hilly trails on Mount Joy and Mount Misery. In addition, hiking is permitted in most open areas of the park. While hiking in the park please keep your pets on a leash at all times. No new trails may be established by hikers.
The paved Joseph Plumb Martin Trail and Schuylkill River Trail, as well as another 12 miles of flat, unpaved trails, are available for biking in the park—a total of 20.5 miles. Many bicyclists also use the park's tour roads: Outer Line Drive and Inner Line Drive. No new trails may be established by riders.
Horses or other saddle or pack animals may be ridden on road shoulders, mowed paths through meadows, or on trails designated for horse use. No new trails may be established by riders.
To ensure your safety, and to protect sensitive historic and natural resources in the park, you must abide by these common-sense regulations:
-Some former trails have been closed to public use. They were closed because they are unsafe and cannot be made safe, or because using the trails destroys natural or historic resources. If a trail is not shown on this map, it is closed and pulic use is not permitted. Please be a part of protecting your natural and cultural heritage by staying off closed trails.
-Trails are designated for certain uses, as shown on the map, in order to prevent resource damage. Using trails for undesignated uses damages resources and is prohibited.
-Off-trail use by bicycles causes damage to cultural and natural resources and is prohibited.
-Parking is permitted only in areas shown on the map. Parking on the grass damages cultural and natural resources and is prohibited.
-The use of skates, in-line skates, skateboards, and roller skis endangers other trail users and is prohibited throughout the park.


Last updated: March 31, 2012