Date & Time

Multiple Days: Annually, Every 4th of July from 07/04/2016 to 07/04/2020 11:00 AM to 3:00 PM

Fee Information

Free activities/Food for purchase

Contact Us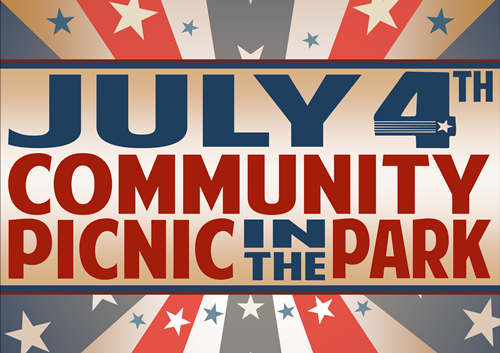 Celebrate our nation's independence with blackpowder demonstrations, historical games, an All-American cook-out, music, and more! Meet one of the founding fathers and sign the Declaration of Independence. Learn about the birth of the nation and the pivotal role the Valley Forge Encampment played in securing our freedom from Great Britain.  Help the public and help the park - contribute to the event by volunteering!

Traveling to the Event
The Community Picnic in the Park is a very popular and well attended event. We encourage visitors to carpool, bike, walk or take public transportation.  For those who will drive to the event, please see the attached parking map showing available parking lots and the free in-park shuttle system operating between specific parking areas and the event venue.  Visitors arriving via the North Gulph entrance will be directed to available parking at their time of arrival. 

Trolley Tours
Visitor Center | 10:00, 12:00, 2:00 and 4:00
90-minute guided tour makes extended stops at the Muhlenberg Brigade huts and Washington's Headquarters. Buy your tickets inside the Visitor Center.

Ranger-led Walks
Begins in front of Park Theater | 10:50 and 2:50
Join a Valley Forge National Park Service Ranger for a short walk up to the Muhlenberg Brigade Huts. Witness soldier life demonstrations and have the opportunity to ask the "soldiers" about life at Valley Forge during the 1777-1778 winter encampment.

Games, Crafts and Activities
Mini Parade | 11:00 - 3:00
SO much to do!  Dress-up like a colonial, make your own finger print flag, decode a Revolutionary War spy message, dunk the tax collector, sign your name to the Declaration of Independence, and so much more!  All activities are free!

Storytelling Benches
Ongoing stories from 11:00 - 4:00
Listen as Once Upon A Nation storytellers share riveting stories of the Valley Forge encampment and how it became a turning point in the Revolutionary War. Benches are located on the Train Station platform at Washington's Headquarters, in front of the Visitor Center, and near the Muhlenberg Brigade Huts.
Black Powder Demonstration
Muhlenberg Brigade Huts | 11:30, 1:30 and 3:30
After you've visited with the "soldiers" at the Muhlenberg Huts, witness black powder demonstrations! 
Readings of the Declaration of Independence
Visitor Center Lawn | 11:30, 12:30 and 1:30
Join Benjamin Franklin as he recites the Declaration of Independence and sign your "John Hancock" to the bottom of our copy.
Join the Continental Army
Mini Parade  | 11:45 and 1:45
Kids can "enlist" in the Continental Army and learn to march and drill like a Continental Soldier.
Secrets and Spies
Washington's Headquarters | 12:30 and 2:00
George Washington needs your help! There's rumor of a plot to have him kidnapped at Valley Forge. Be the first to enlist and join an American spy network to uncover the traitors involved. The program is presented with children in mind, but fun for participant's of any age!
Carillon Concert
Washington Memorial Chapel
| 7:30pm
Listn to the magnificent music of one of the world's largest carillons.  Concert is free.
Hungry?
Step-up to the Barbecue Tent and purchase delicious grilled hot-dogs, hamburgers, ice cold beverages and more!