Date & Time

06/16/2018 10:00 AM to 11:30 AM

Fee Information

Free

Contact Us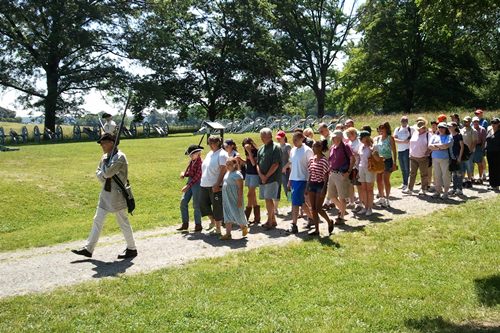 March begins at 10:00 am at Artillery Park, ends at approximately 11:30 am at Varnum's Picnic Area
 
Walk in the footsteps of the Continental Army along the historic trace road used by the army as they departed Valley Forge in June of 1778 in pursuit of the British Army. Along the way interpreters in continental uniform will explain the events at Valley Forge that allowed the army to turn things around and successfully engage the British. Visitors who choose to pack a lunch have the option to enjoy it at the picnic area following the program.

Sturdy footwear should be worn, as the historic road is unpaved and uneven in spots. Please bring plenty of water as there are no water fountains between stops. Paricipants will have to walk back to their vehicles at the conclusion of the program. 

This is a rain or shine event, but may be cancelled in the case of extremely heavy rain or dangerous conditions.
 
Schedule of Events:
10:00 am-Event kicks off at Artillery Park 
10:20 am-Walk down the Baptist Trace Road to the old school house (The role of women in Valley Forge and the March Out)
10:45 am-Walk to the midway point of the Grand Parade (Hear about Von Steuben, the Grand Parade, and the departure from Valley Forge)
10:45 am-Walk down the Baptist Trace Road to Conway's Brigade (Soliders life leading up to departure)
11:15 am-Walk down the Baptist Trace Road to Varnum's Picnic Area 
11:30 am- Valley Forge Rangers and Volunteers will demonstrate how the Continental Army put General Von Steuben's training to use with musket drills culminating in a musket firing program (weather dependent).
 
Other programs in the park:
- The historic home of David Stephens (The home General Varnum made his headquarters) will be open, 12:00 p.m. - 4:00 p.m.