Date & Time

02/20/2017 10:00 AM to 2:00 PM

Fee Information

Free

Contact Us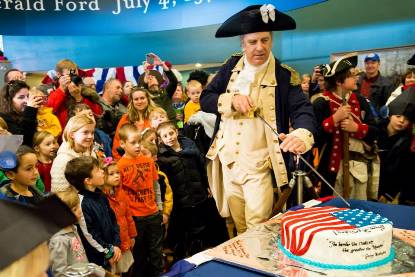 Celebrate General George Washington's Birthday With Us!
Monday, February 20
Did you know that the first public celebration of Washington's birthday was at Valley Forge in 1778? Join Mrs. Washington, members of the Continental Army, and others to celebrate His Excellency's 285th birthday this President's Day. Cupcakes and samples of Martha Washington's "Great Cake" recipe will be baked and served by the students at The Culinary Institute of Montgomery County Community College.
Birthday Activities in the Visitor Center | 10:00 a.m. - 2:00 p.m.
Children and adults can try on 18th century clothing and meet the General and Mrs. Washington, played by historical interpreters John Lopes and Carol Spacht.The Colonial Revelers will be serenading visitors from 10:30 a.m. to 1:00 p.m. Stop at the enlistment table to sign up for the Join the Continental Army program, which will take place at 12:30 after the cake ceremony. 
Sing Happy Birthday to the General in the Theater | 12:00 p.m.
Help Martha sing Happy Birthday to George Washington as he cuts his cake. Cupcakes and samples of Martha Washington's birthday cake recipe will be served outside. Follow the side walk and volunteers.

Crafts in the Meeting Room (formerly the Education Center)  | 10:00 a.m. - 2:00 p.m. 
Get ready to meet our nation's first president. Create a birthday card for General Washington and make your own matching tricorn hat.

Games Outside next to the Education Pavillion | 10:00 a.m. - 2:00 p.m. 
Play with 18th century toys and games.

Weaving in the Theater | 10:00 a.m. - 11:45 a.m. 
See our volunteers handy work as they help you make a creation of your own
Join the Continental Army | 12:30 p.m.
Children will fall in to drill formation and be taught how to march and drill like a Continental Soldier on the new mini grand parade, just outside of the upper Visitor Center doors. Troops will receive a special instruction from General Washington! 
Don't forget to visit Washington's Headquarters, open from 10:00 a.m. to 4:00 p.m.