'78 Mile Challenge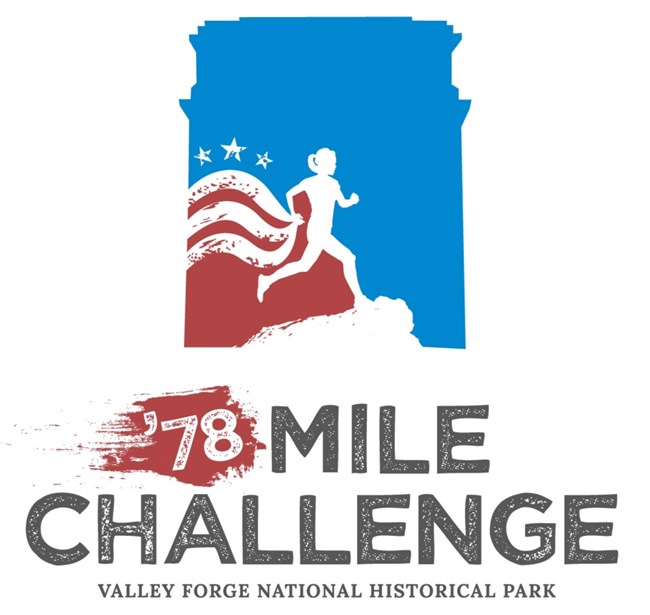 Join the National Park Service to celebrate Healthy Parks Healthy People by participating in the '78 Mile Challenge along the trails, roads, and waterways within Valley Forge National Historical Park.
Participants can run, walk, bike, hike, or paddle to complete the challenge. Keep track of miles you have accumulated in the park and when you reach that magic number - 78 - you will earn a special prize that places you in that elite group of outdoor enthusiasts. The number 78 recognizes 1778, the year George Washington's army struggled, trained, and eventually persevered right here at Valley Forge.
The 2019 challenge begins on April 28 with the Rev Run event.
How It Works
1. Download the log form
Follow this
link
to download the official 78 Mile Challenge log form. Print it out and then get outside at Valley Forge!
2. Track your miles
Every time you go for a run, take a hike, enjoy a walk at Valley Forge National Historical Park you can record your miles. You can attend park programs such as History Hikes or Ranger Led Walks to earn more miles as well. Consult the
Maps and Brochures
page for more information about trail distances.
3. Claim your prize
Once you have reached 78 miles, bring your completed log form into the Visitor Center. Park staff will verify your form and issue your prize!
Please note prizes will not be available for pick-up until June 1, 2019.
In addition to the standard prize, the first fifteen finishers will receive a t-shirt courtesy of the Valley Forge Park Alliance!
Kids Challenge
All participants 12 years old and younger are invited to collect stickers as they complete the challenge. Come into the Valley Forge National Historical Park Visitors Center after you complete 25 miles to get your achievement stickers! NPS staff will distribute mileage specific stickers for kids who complete 25 mi., 50 mi., and then 78 mi. It's a great way for kids to monitor their progress!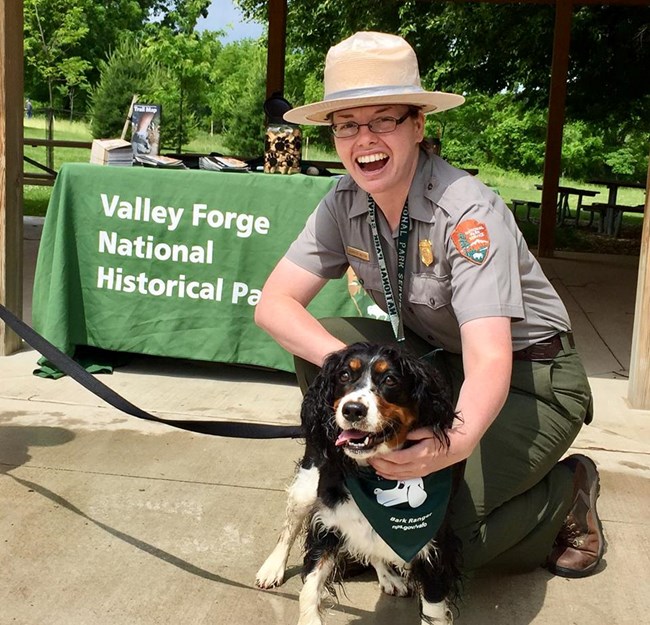 Bring Your Pet Along for the Challenge

Dogs are great companions for enjoying the outdoors and are allowed on trails at Valley Forge National Historical Park. Canine companions can participate in this challenge. To complete this challenge, each participating pet must complete 78 miles in the park with their human companion. Every time your pet joins you on a walk, hike, or run in the park, simply check it off on the log form. When you've completed the challenge, add up your dog's miles.

Prior to hitting the trail, please be aware Valley Forge offers a B.A.R.K. Ranger Program! This is a great way to get acquainted with park rules concerning pets. You can attend a B.A.R.K. Ranger event to get your pet sworn in and claim a small prize.

Please respect all visitors to parks and help protect site resources by following the park's pet policies:
Remember the B.A.R.K. Ranger pledge: Bag your waste; Always wear a leash; Respect wildlife; Know where you can go.

Dogs must be kept on a leash no longer than 6 feet at all times. Leashes protect pets from becoming lost, from hazardous wildlife encounters, and from scaring or threatening wildlife. Leashes also protect other visitors who may be afraid, allergic, or who do not want a pet approaching them.

Pick up your pet's waste. It is unpleasant to encounter and degrades the park's ecosystem.

Bring water for your pet to drink on your hikes. Streams may contain bacteria or parasites that are harmful to you and your pet.

As much as we love four-legged creatures, do not bring pets to public ranger programs; this avoids potential conflicts with other animals and respects other program participants.
Follow us on Facebook to learn more about opportunities to earn miles! We'll be posting to advertise guided recreational opportunities. You can share your experience online using #VF78mi.
Park Programs
Visitors are encouraged and welcome to attend any one of these scheduled programs throughout 2019 and count the distance towards their 78 miles. For more information about these or other events at Valley Forge National Historical Park, please be sure to check out our Schedule of Events.
Ranger-led Walks:
This free, ranger-guided 1/2 mile walk explores the Valley Forge winter encampment and its impact on the American Revolution. The schedule is as follows: April 1 through June 18 weekends at 10:50 am and 2:50 pm; June 19 through September 4 daily at 10:50 am, and 2:50 pm; September 5, 2016 through October 30 weekends at 10:50 am and 2:50 pm.
History Hikes:
Join a park ranger as they take you along some of Valley Forge's trails, explaining the history of the park along the way. This brand new program is a great way to learn some history while getting some miles in. Please check back for dates and times.
Trail Tuesdays:
Join the Valley Forge Park Alliance for Trail Tuesdays as they walk, talk, get healthy, and be happy! Walk is for all fitness levels. Dogs and strollers welcome. The walk is about 2 miles and lasts about one hour. Walks are held Tuesdays 10 am – 11 am and begin at Alliance table in Visitor Center lower lot.
Bird Walks:
Join the Valley Forge Park Alliance and local birders on the 2nd and 4th Tuesdays of each month for a fascinating bird walk. See or hear different species in a variety of seasons and habitats such as meadow, edge and woods. Walk is intended for birders of all levels, beginners welcome and encouraged. The walk is approximately 1.5 miles and will last about 2 hours. The schedule is as follows: May 14 & 21 at 7:30 am; June 11 & 25 at 7:30 am; July 9 & 23 at 7:30 am; August 13 & 27 at 7:30 am; September 10 & 24 at 8 am; and October 8 & 22 at 8 am. Meet in the Artillery Park Parking lot on East Inner Line Drive.
The Encampment Store Bike Tours:
The Encampment Store's fun and knowledgeable tour guides will lead your group on a bicycle tour past beautiful forests and meadows (and a couple small hills!) while sharing the history of the Valley Forge Encampment. Private guides are available with advanced reservation for any day that the bike rental is open or for groups of 10+ (guides can also be available any day for groups that bring their own bikes). Tours can be scheduled as two hours / five miles in length or three hours / seven miles in length and make stops at the Muhlenberg Brigade hut site, National Memorial Arch, Artillery Park and the Grand Parade (three-hour tour adds Washington's Headquarters). Tours depart from the bike rental stand. For more information or to schedule a tour, please call 610-624-5010 or visit
encampmentstore.org
.
Last updated: May 7, 2019