Request for Proposals to Lease Kennedy Supplee Mansion
OPPORTUNITY: Lease Historic Kennedy Supplee Mansion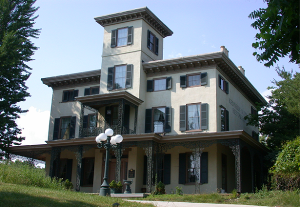 The National Park Service (NPS) at Valley Forge National Historical Park is accepting responses to the Kennedy Supplee Mansion Request for Proposals (RFP) until a responsive proposal is received or the RFP is cancelled. Please refer to the RFP for more information.
Site tours are now available. Please contact Patrick (Pat) Madden at pat_madden@nps.gov for more information.
The RFP provides the opportunity for interested individuals and organizations to submit proposals to the National Park Service to lease this property. This lease opportunity is open to all interested persons on a competitive basis. Whoever submits the proposal for each property, judged best under the proposal selection criteria, will be given an opportunity to negotiate a final lease agreeable to both the offeror and the National Park Service.
The Kennedy-Supplee Mansion, originally called "Kenhurst," is an Italianate and Italian Villa-styled mansion with 9,276 feet of above-grade space featuring Egyptian Revival interior decorations. It was built in 1852 and is listed on the National Register of Historic Places. It is located in Upper Merion Township at the eastern edge of Valley Forge National Historical Park off of Pennsylvania State Route 23. The mansion is visible from U.S. Route 422 and is close to the commercial center of King of Prussia, Pennsylvania.
| | |
| --- | --- |
| | September 30, 2013 |
| | Property for lease may be used for the following purposes or other purposes as approved by the NPS: Restaurant, Catering Establishment, Special Event and/or Conference Center, Inn, Bed and Breakfast, Professional Offices (medical, accounting, legal, consulting, etc). |
| | |
| | |
| | |
| | Each Friday beginning Friday, February 21, 2014, 1:00 PM until a responsive proposal is received or this RFP is cancelled. |
Request For Proposals and Supporting Documents
To request a site visit, submit questions, or obtain further information regarding this Request for Proposals, please contact:
Patrick Madden, Business Manager
Valley Forge National Historical Park
1400 North Outer Line Drive
King of Prussia, PA 19406-1009
e-mail us
Last updated: February 26, 2015