Prescribed Fire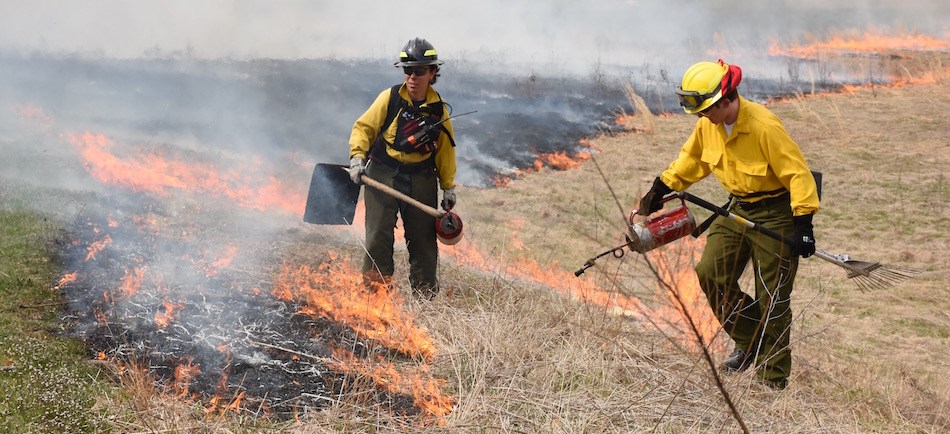 Update 4/2/19
The prescribed fire at Valley Forge has concluded. Fire operations for Wednesday, April 3rd are CANCELED due to weather. The park successfully burned "Field 1" - approximately 106 acres - on Tuesday, April 2nd. "Field 23" may be burned at a future date later in 2019.
The park plans to burn 135 acres in multiple meadows located along PA Route 23 (Valley Forge Road) and Gulph Road. The area for the burn is within the Grand Parade area, a high priority habitat area with a diverse mixture of native and non-native plant species that will be assessed following the burn. Fire will help control high priority invasive plants including Oriental bittersweet (Celastrus orbiculatus), Japanese honeysuckle (Lonicera japonica), Himalayan Blackberry (Rubus armeniacus) and Callery pear (Pyrus calleryana).
Public Viewing Areas: Varnum's Picnic Area and Artillery Park, Portions of Joseph Plumb Martin Trail (Field #1), Maurice Stephens House Parking Lot and Joseph Plumb Martin Trail Along PA Route 23 (Field #23)
Public Closures for Field #1: Von Steuben Statue and Maurice Stephen House Parking Areas, North Inner Line Drive, Grand Parade Trail from the North End of Baptist Trace to Maurice Stephens House, Baptist Trace Trail from Gulph Road to Route 23, "Underlook Trail" from Baptist Trace to the Grand Parade Trail
Public Closures for Field #23:

Chapel Parking Lot (NPS portion),

Chapel Trail

Media: Call (610) 342-5182 to arrange for escorted filming opportunities of firing operations and firelines.
About the Spring 2019 Prescribed Fire Operation
This April the park plans to conduct a prescribed fire on approximately 135 acres of meadows, beginning as early as April 1. The park plans to burn multiple meadows, located along PA Route 23 (Valley Forge Road) and Gulph Road, with the project taking up to one week to complete depending on field conditions. Prescribed fire activity would be completed no later than April 30th.
Field and weather conditions will ultimately determine the exact dates and duration of the operation, as we only conduct prescribed fires under specific parameters to ensure public safety. Vehicle traffic in the area may experience delays due to smoke, but fire operations will be scheduled to minimize impacts during commuting hours. Visitor facilities, trails, and public roads throughout the park are expected to remain open and the public will be invited to view the fire from designated areas. The ultimate start date of the prescribed fire will be publicly shared approximately one week prior the start of the operation.
Why the Park is Conducting a Prescribed Fire
Valley Forge conducted a successful prescribed fire in 2014 and 2018 with minimal impact to visitors and neighbors, and we achieved our management goal to determine the effectiveness of fire in reducing invasive plant species in park meadows. The park contains over 1,500 acres of meadows which provide critical habitat for birds and mammals. Recently many meadows have been overtaken by exotic invasive plants that degrade habitat and cannot be adequately controlled by mowing or herbicide.
Prescribed fire is a successful tool in managing invasive plants and promoting native species, especially when used in conjunction with other treatments. Several national parks in Pennsylvania regularly utilize prescribed fire, including Gettysburg National Military Park and Delaware Water Gap National Recreation Area.
What is Prescribed Fire?
Park managers may "prescribe" a treatment for resource benefits or research that includes lighting a fire in an area for various purposes after careful planning and under carefully controlled conditions. A prescribed fire is a planned fire; it is also sometimes called a "controlled burn" or "prescribed burn," and is used to meet management objectives. A prescription is a set of conditions that considers the safety of the public and fire staff, weather, and probability of meeting the burn objectives.
Additional Resources
Sign up for text/email/phone community alert notifications via Nixle.
Have questions? Please contact Jonathan Parker, Public Information Officer, at (610) 342-5182.
Last updated: April 2, 2019