Request for Proposals to Lease Maurice Stephens House
OPPORTUNITY: Lease Maurice Stephens House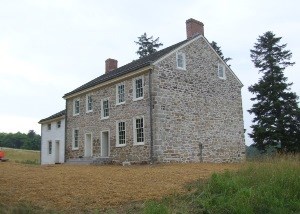 The National Park Service (NPS) at Valley Forge National Historical Park is accepting responses to the Maurice Stephens House Request for Proposals (RFP) until a responsive proposal is received or the RFP is cancelled. Please refer to the RFP for more information.
Site tours are now available. Please contact Patrick (Pat) Madden at pat_madden@nps.gov for more information.
The RFP provides the opportunity for interested individuals and organizations to submit proposals to the National Park Service to lease this property. This lease opportunity is open to all interested persons on a competitive basis. Whoever submits the proposal, judged best under the proposal selection criteria, will be given an opportunity to negotiate a final lease agreeable to both the offeror and the National Park Service.
The Maurice Stephens House is located south of Route 23 across from Washington Memorial Chapel on the edge of the Grand Parade.The main portion of the house, which consists of the five- bay, two and one- half story masonry structure, was constructed in 1816. An addition on the east side of the original structure was constructed circa 1841.
| | |
| --- | --- |
| | Monday, December 8, 2014 |
| | Property for lease may be used for the following purposes or other purposes as approved by the NPS: Restaurant or Cafe, Art Center, Community Center, Professional Offices. |
| | On State Route 23 across from Washington Memorial Chapel. |
| | Ten or more years (term to be determined by level of capital investment). |
| | |
| Initial Proposal Submittal Deadline | Friday, February 13, 2015, 1:00 PM EDT |
| | |
| --- | --- |
| Subsequent Proposal Submittal Deadlines | If no proposals received on or before February 13, 2015, proposals will be received each Friday at 1:00 PM EDT beginning February 20, 2015. |
Request For Proposals and Supporting Documents
To request a site visit, submit questions, or obtain further information regarding this Request for Proposals, please contact:
Patrick Madden, Business Manager
Valley Forge National Historical Park
1400 North Outer Line Drive
King of Prussia, PA 19406-1009
e-mail us
Last updated: February 26, 2015