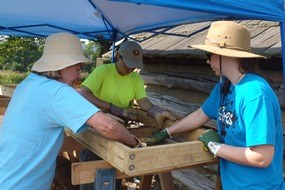 Summer 2014 Public Archeology Program
3rd Virginia Brigade Excavation
The public is invited to participate in an archeological excavation this summer of the 3rd Virginia Brigade site at Valley Forge National Historical Park. The excavation project will run Monday through Friday from June 9 - July 18, with the possibility of additional weeks depending on how the work progresses. Visitors can stop by the excavation site weekdays between 8:30-11 am or 12-2:30 to see what the archeologists are finding. Park at the Knox Parking Lot on Rt 252, cross 252 and follow the signs up the hill (Mount Joy) to the excavation site.
Why the 3rd Virginia Brigade?
During the winter encampment of 1777‐1778, the 3rd Virginia Brigade under the command of Brig. Gen. William Woodford camped on the southern slopes of Mt. Joy. At the height of the encampment it is estimated that there were over 650 men in nearly 40 huts. To date no archeological research has been performed in this area. The purpose of this project is to define the spatial limits of the Woodford's brigade and to systematically sample the remains of the site. These data will then be compared to existing archeological knowledge of other encampment‐era sites located within Valley Forge NHP for the purpose of providing a deeper understanding of day to day life during the encampment. In July and August 2013, archeologists conducted a geophysical survey and a number of possible archeological features were identified during the survey. The excavations this summer will examine the geophysical anomalies to see if any of them are encampment‐era features.
Contact:
Liza Rupp
Project Supervisor
610-783-1028