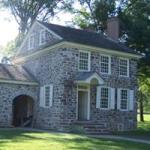 Washington's Headquarters (tour stop #5) and Varnum's Quarters (tour stop #8) are two historic buildings in Valley Forge National Historical Park that tell important stories of the people who resided in them during the winter encampment.
Washington's Headquarters, also known as the Isaac Potts House, has the distinction of being the structure General Washington used as his headquarters during the 1777-1778 Valley Forge Encampment. At the time of the encampment the house was being rented by a Potts relative, Deborah Hewes. Mrs. Hewes in turn rented the entire house along with some furnishings to the General and his military family.
The building we now call Varnum's Quarters was owned by David Stephens and is a small stone farmhouse that, like many of the houses in the area, served as the quarters for one of the higher ranking officers. Unlike the house Washington rented, many of these homes were shared by the military and the family who owned them. For a short time this building served as Brigadier General Varnum's Quarters.
When these buildings are closed you can still tour Washington's Headquarters virtually on YouTube and download the illustrated guidebooks for Washington's Headquarters and Varnum's Quarters to get a glimpse of the buildings interiors.
View other self-guided touring options at the park.
View the complete hours of operation for these buildings and the rest of the park.