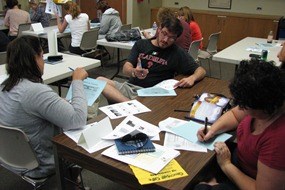 2014 Summer Teachers Institute

Life in the Time of Revolution
In four days you will learn the details of late 18th century life and how to bring that history to your students using Common Core Standards. From July 14 to 17, 2014 we will explore three parks learning about 18th century life in the time of revolution. We'll help answer the question- "How would you survive the chances and choices of daily life?" You will come away from your week with primary source materials and lesson plans, to make it easy to share your experience with your students.

Registration closes on May 10, 2014.