Home School Days
Home School Day


Spring Date: Wednesday, May 22nd, 2019



***Thank you for a great Spring Home School Day! Please check back for the Fall Home School date and list of topics.***





Home school students and their families are invited to join us for an exciting day of learning at Valley Forge National Historical Park. The event will consist of 3 parts- Curriculum Sessions, Exploration Stations, and Field Sessions.
Curriculum sessions

will be 40 minutes long and held at 10am, 12pm, and 2pm. Each age group will be limited to 20 children per time slot and require advance registration. Due to the limited space of each session, please register for a curriculum session only if you know you can attend. Remember, unlike previous years, you do NOT have to attend a Curriculum Session to attend other portions of the event. Pro tip: afternoon sessions tend to fill up slower than morning sessions. Topics are as follows:
3-5 years old- "

Becoming George" Join us as we lead children through various stages of George Washington's life with hands on activities and storytelling. Presented by Valley Forge volunteers



6-8 years old-

"

The Two J. Potts, Brothers at War" Brothers John Potts and Jonathan Potts had almost identical upbringing but their lives went in very different directions when war broke out in colonial America. Delve into their stories with primary sources from the period and think like a historian to see all the sides of this family. Presented by Pottsgrove Manor





9-11 years old-

"Protecting General Washington's Army at Valley Forge: Defenses of the Encampment" Why didn't the British attack General Washington's Army at Valley Forge? Answer this question by exploring the natural defensive landscape of Valley Forge and how this natural landscape was improved through a series of man-made defenses and fortifications.





12-15 years old

- "Civility in the 18th Century" This lesson will provide an understanding of the civilian culture and the impact the Continental Army had upon the local Valley Forge area population. Presented by park volunteer and Encampment Store Trolley Guide



Exploration Stations

(formerly known as breakout sessions) will run continuously from 10am-3pm. The stations will have hands on activities examing a variety of educational themes found in Valley Forge. Topics include:
Tailoring Brigade

- Try your hand at sewing a historic article of clothing. Presented by the Valley Forge Tailoring Brigade





Living History

- Visit Valley Forge rangers and volunteers in period clothing as they describe the daily life of a Continental Soldier





Colonial Medicine

- Take a closer look at the tools and techniques nurses and doctors used during the Revolutionary War with park volunteer Mr. Peters.



Crime and Punishment of the 18th Century- You've done the crime, but can you handle the punishment? Presented by 1st State National Historical Park



Schuylkill Explorers-

Investigate

the Schuylkill River watershed by examining how water flows over the landscape collecting nutrients and pollutants and what critters call the river home. Presented by Schuylkill River Greenways National Heritage Area





Native and Non- Native Wildlife of Valley Forge-

Who lives there? Learn more about the animals, both native and non-native, that call Valley Forge home. Presented by Valley Forge NHP Rangers and volunteers





The Woman That Saved Washington's Headquarters

- Anna Holstein served along with her husband as a nurse during the Civil War and was also a member of the Mount Vernon Ladies Association. As first Regent of the Centennial and Memorial Association she set about raising money for the purchase of Washington's Headquarters. Hear the story of how it happened! Presented by the Park Alliance



Revolutionary and Match Game Challenges

Come test your Revolutionary War knowledge by buzzing in or moving to the correct answers with this fun interactive activity for the whole family. Presented by Independence National Historical Park





Iron: Industry and Revolution-

Hopewell Furnace NHS will introduce families to the iron industry of southeastern Pennsylvania. Families can learn why the industry was so prevalent in this area, where the resources were coming from, and what impact the iron industry had on the Revolutionary War and beyond. Presented by Hopewell Furnace National Historic Site





Cooking with a Collier

-

Colliers were the charcoal maker that provided fuel for the iron forges and furnaces, and spent a great deal of time in the forests as they turned wood into charcoal. In doing so, colliers needed to cook over an open fire with a minimum of utensils.

Presented by Chester County Parks



Field Sessions

are a new addition to our Home School Day lineup. These lessons will be held in other areas of the park lead by experts in their respective fields. Registration will be 1st come 1st served. Numbers allowed and length of activity will vary based on activity.
Historic Story Writing

- Join a former English teacher and a Once Upon a Nation Storyteller while they tell a couple of short historic fiction stories and help guide children through writing their own. Once the story is complete, it can be submitted to the Historic Philadelphia's Future Storyteller contest to win a chance to tell your story at a bench in Valley Forge! For more information on the contest, please visit the

Future Storyteller website.

This program will last 30-40 minutes and be limited to 30 children ages 8-15 years..





History Hike-

In this 1 hour, 1.5 mile hike learn the history of Valley Forge and develop a deeper appreciation for the park's natural environments while stopping at some of the park's historically significant sites. This hike is not stroller friendly.





Bird Walk-

Bring your binoculars and join a former ranger and a volunteer to explore the park looking migrating birds and those that call the park home. This program will cover about 1.5 miles through the uneven terrain of the meadow paths. The bird walk will be limited to 20 people to ensure that the group is not so large as to scare away the birds.
To make the experience the best for all involved we ask you to consider a few items.
We ask all families that are planning to attend any part of the event to register. If you are planning to attend a curriculum session, please fill out the additional details about your child (children) and 1st and 2nd choice of times.

For the duration of the event, we ask there be at least one (1) parent or guardian per seven (7) children.

We ask that participants wear sturdy closed toe shoes.

Due to limited parking we highly encourage carpooling.

Again, this event is for Home School families. If you attend a charter, virtual, or traditional school, please register for our

ranger led education programs

.
***Thank you for a great Spring Home School Day! Please check back for the Fall Home School date and list of topics
.***
If you have any questions, please email
Beth Dhunjisha
.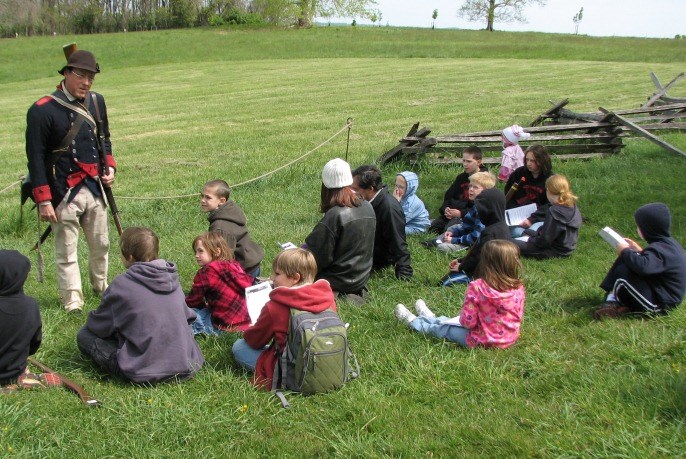 Last updated: May 30, 2019