Home School Days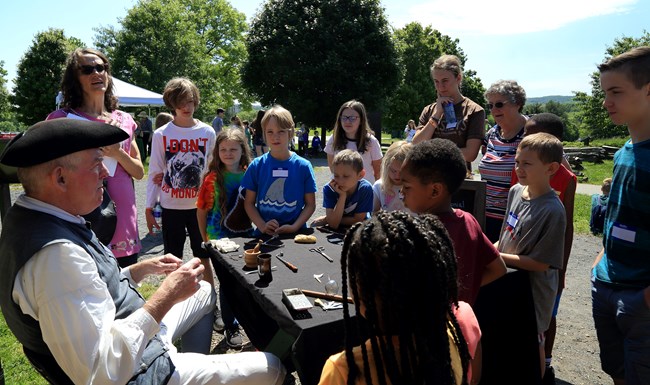 Unfortunately, due to Covid-19, the Fall 2021 Home School Day event will not be happening. If you have not attended the program before, please check out the information below from a previous Home School Day. Also, please bookmark this page to easily check back for updates as we explore possible alternatives.



---
Sample Home School Day Lineup:
Home school students and their families are invited to join us for an exciting day of learning at Valley Forge National Historical Park. The event consists of three parts: Curriculum Sessions, Exploration Stations, and Field Sessions.
Curriculum Sessions
Curriculum Sessions are 40 minutes long and held at 10am, 12pm, and 2pm. There are three age groups (see below.) Each age group will be limited to 20 children per time slot and require advance registration. Due to the limited space of each session, please register for a curriculum session only if you know you can attend.
Pro tip: For younger children, morning sessions tend to fill up first, while for older children, afternoon sessions fill up first. To increase your chances of having a spot, go against the grain- put younger children in afternoon time slots and older children in the morning.
6-8 years old - Communications During the Revolutionary War
Communication today can be taken for granted; a text or email can be sent in seconds and reach someone across the world. During the American Revolution it could take weeks for a correspondence to reach the final destination. In this curriculum session students will learn about the role that flags, maps, and letters played in helping the United States win independence from the British. Presented by Valley Forge staff
9-11 years old - Foodways of the 18th Century
Students are challenged to think historically using colonial recipes! Children can not only hone math skills, but also get a glimpse into the food culture of the 18th century. This will be a more in-depth look than what is offered as an Exploration Station. Presented by Pottsgrove Manor
12-15 years old - The Great Cow Chase!
At the darkest moment of the Valley Forge encampment, General "Mad" Anthony Wayne led a foraging expedition around Philadelphia, gathering desperately needed supplies. Wayne's troops played a deadly game of cat-and-mouse with British forces in New Jersey, all while driving a herds of cattle. In this program you'll trace the movements of the American and British soldiers in this "Great Cow Chase" and see just how difficult and dangerous it was to feed the army. Presented by Valley Forge staff
Exploration Stations
Exploration Stations provide hands-on activities for children 3-15 years old examing a variety of educational themes found in Valley Forge.
Topics include:
Tailoring Brigade

Try your hand at sewing a historic article of clothing. Presented by the Valley Forge Tailoring Brigade
William Penn, the Founding of Pennsylvania, and Native Americans

William Penn developed relationships with the Indigenous Peoples who were native to the land that eventually became Pennsylvania. Learn more about this relationship in this activity presented by Pennsbury Manor.

Living History

Visit Valley Forge rangers and volunteers in period clothing as they describe the daily life of a Continental Soldier

Foodways of the 18th Century

Visitors are challenged to think historically using colonial recipes! Children can not only hone math skills, but also get a glimpse into the food culture of the 18th century. Presented by Pottsgrove Manor.

Colonial Medicine

Take a closer look at the tools and techniques nurses and doctors used during the Revolutionary War with park volunteer Mr. Peters.

Be an Archeologist

Archeologists try to figure things out that happened a long time ago. Can you figure out what people did in the past based on the garbage they left behind? Presented by Valley Forge staff.

Changing Hands – Land Titles and Real Estate

The land we know today as Valley Forge has changed hands many times over the last four hundred years. Beginning with the land grant to William Penn by King Charles I of England in 1681, title to the property has a legal record all the way through to the present. Explore with us the "ancestral lineage" of the Valley Forge real estate, particularly the land where Isaac Potts house sits, the house now known as Washington's Headquarters at the Valley Forge Encampment. Presented by the Valley Forge Park Alliance.

Iron: Industry and Revolution

Rangers from Hopewell Furnace National Historic Site will introduce families to the iron industry of southeastern Pennsylvania. Families can learn why the industry was so prevalent in this area, where the resources were coming from, and what impact the iron industry had on the Revolutionary War and beyond. Presented by Hopewell Furnace National Historic Site staff

Meet a Collier

Join a "Collier" (Charcoal Maker) to learn about their trade and how they would have lived while working in the forests to make the fuel for iron industry forges and furnaces like the Valley Forge. Presented by Chester County Parks

Schuylkill Explorers

Investigate the Schuylkill River watershed by examining how water flows over the landscape collecting nutrients and pollutants and what critters call the river home. Presented by Schuylkill River Greenways National Heritage Area

Birds of Valley Forge

Ever wonder what birds at Valley Forge do in the winter? This lesson will explore that and take a look at what Valley Forge is doing to provide important habitat for our feather friends. Presented by Valley Forge staff

Washington and the Farmstead

Before Valley Forge, Washington and his troops stayed at the Peter Wentz farm. Learn more about what happened during this period. Presented by Peter Wentz Farmstead

Reading With a Ranger

Join park staff as they read a book geared towards younger children. Afterwards, enjoy a short hands on activity related to the story. This activity will happen at 10am, 11am, 12pm, and 1pm.
Field Sessions
Registration for Field Sessions will be first-come, first-served. Group size and length of activity will vary based on activity. Session times are 11:15am and 1:15pm.
Pro-tip: If you are interested in a Curriculum Session and a Field session, please register appropriately to allow for travel time. For example: if you would like to do the 1:15pm Bird Walk, register for the 10am Curriculum Session to allow ample time to visit the Exploration Stations and travel to the Bird Walk location.
Learning to Think Like a Writer: Using Specific Details

Students will develop their idea discovery, close observation, and sentence writing skills by examining a description of Valley Forge and learning strategies to imitate its specific details, vocabulary, and similes. This program will last 30-40 minutes and be limited to 30 children ages 8-15 years.

Bird Walk

Bring your binoculars and join a former ranger and a volunteer to explore the park looking migrating birds and those that call the park home. This program will cover uneven terrain near the Pawling Farm area. The bird walk will be limited to 20 people to ensure that the group is not so large as to scare away the birds.

Soldier Life

Join a ranger for a Home School Day take on this popular school field trip. Learn about the Revolutionary War, Valley Forge, and practice the drilling maneuvers that General Von Steuben taught the troops in the winter of 1777-78.
---
Every Kid Outdoors (formerly known as Every Kid in a Park) is a program aimed at allowing 4th graders and their families free access to public lands, like National Parks, National Forests, and National Wildlife Refuges. Every Kid Outdoors will have table with an activity for 9-11 year old children. After completing the activity, they will be awarded an Every Kid Outdoors pass. This pass will give the child and his/her family free access to all federal public lands and waters from now until Aug. 31, 2020!
To make the Home School Days experience the best experience possible for all involved we ask you to consider the following:
Please register, even if you only plan to attend one part of the programming. If you are planning to attend a curriculum session, please fill out the additional details about your child (children) and 1st and 2nd choice of times.

There must be (1) parent or guardian per seven (7) children present for the duration of the event.

Please wear sturdy closed toe shoes.

Due to limited parking we highly encourage carpooling.

Again, this event is for Home School families. If you attend a charter, virtual, or traditional school, please register for our ranger led education programs.
Please email Beth Dhunjisha with questions.
Last updated: July 26, 2021