Home School Days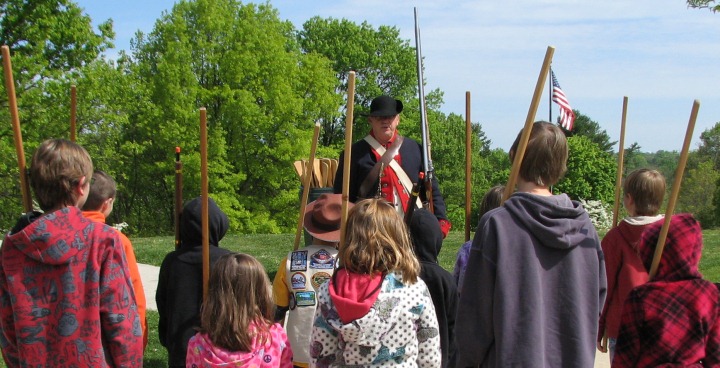 Home School Day
Wednesday, October 12th, 2016
Home School students are invited to visit Valley Forge for a unique educational experience. Multiple interactive learning stations encourage students to explore topics such as 18th century life, the American Revolution, and natural resources. Our park rangers and dedicated volunteers bring education to life through special programs and hands-on activities designed for school-aged children.

Registration is required for this program to determine staff requirements and applications should be submitted at least 2 weeks in advance of the program. Registration for each program will be capped at 350 students and booked on a first come first served basis.

Registered students will be assigned a program time (9:00 am, 11:30 am, or 2:30 pm) and a brigade color (red, white, or blue) for their march with a soldier. Families who wish to be placed in the same brigade should note this under "Special needs," on the registration form.

Please arrive at the Education Pavilion behind the Visitor Center fifteen minutes prior to your program time to check-in and pick up your registration packet. A park ranger in continental uniform will meet each group outside of the Meeting Room and march together to the Muhlenberg Brigade huts.

Students can expect the full program to last an hour and a half. Additional educational opportunities, such as a visit to Washington's Headquarters, may add 30-60 minutes to your day, please plan accordingly. We recommend that you dress appropriately for outdoor weather and wear sturdy shoes. In case of rain, programs will take place in the Meeting Room and Park Theater.

This program is designed for Home School Students only. To prevent overcrowding on the day of the event, we ask that charter, virtual, and/or traditional schools register for our other ranger-led education programs during the academic year, October-May, rather than register for Home School Day.
Light snacks and beverages will be available for purchase in The Encampment Store, located inside the Visitor Center. You may also choose to pack a picnic lunch, as there are no full-service concessions on the premises or indoor dining facilities. The Wayne's Woods and Varnum's Picnic Areas are best suited to accommodate school groups, as they are both situated along the main tour route of the park.
Other helpful trip planning quick links:
Registering for Home School Day

Programs are reserved on a first come, first served basis. A Home School Day registration form for each student attending must be submitted at least 2 weeks prior to your requested program date. Decisions will be made within one week after the submission of the application. You will receive a response confirming your reserved time.

Home School Day registration for our Fall Home School Day will open Wednesday, September 14th.

Questions about filling out or submitting the form or additional logistical/programmatic questions please call 610-783-1066 or email our Education Coordinator. Please leave a detailed message with your question(s) and your contact information and we will promptly respond.