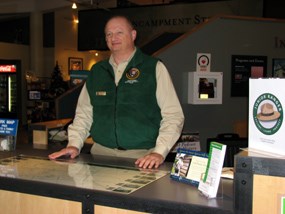 Greater Philadelphia Hotel Association awarded Randy Rice; Volunteer for
Valley Forge National Historical Park its 2007 Nice Touch Award.
The award recognizes Philadelphia-area hospitality community individuals
or organizations providing outstanding service to local and out-of-town
guests and that have had a significant and positive impact on the industry and region in the preceding year.
Rice was presented with this award for his commitment to go above and
beyond the call of duty, to ensure that every visitor have an excellent
experience in the park and for his contributions to the development of a convenience and efficient directory system that help visitors get around Valley Forge and the surrounding area.
Rice is a retired computer software system entrepreneur; he resides in
Lower Providence and is a two-year volunteer at Valley Forge National
Historical Valley Forge. "Randy Rice is an exceptional volunteer. His
volunteer service in the park includes helping at the Welcome Center
Desk; Museum Gallery Talks; Park Watch and Maintenance. He is a
wonderful addition to our volunteer staff who quickly accumulated rave
reviews from our visitor's and staff," said Valley Forge National
Historical Park Superintendent Mike Caldwell." I join our entire staff
in our pride in his contributions and appreciation his excellent
service."