National Public Lands Day 2009 Recap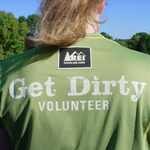 Over 300 volunteers came out to support Valley Forge National Historical Park in what is called America's largest one-day outdoor volunteer service, National Public Lands Day on Saturday, September 26, 2009.
Volunteers of all ages rolled up their sleeves to assist with projects that included tree planting, weeding, fence building and repair, invasive plant and crayfish removal, painting the exterior of park structures, trail renovation and much more…
Community members continue to turnout for this special event - now celebrated for its 6th year at Valley Forge National Historical Park- can be attributed in part to the growing emphasis on service and a growing recognition of the importance of public lands for recreation, travel, rejuvenation and health.
President Barack Obama issued a proclamation, calling National Public Lands Day a time to "affirm our resolve to conserve...cherished spaces for our enjoyment and for that of future generations."
Of course another big reason National Public Lands Day continues to be a big success and has grown so much is the numerous volunteers and partners that work hard to make each event as successful as the last.
Special thanks to:
REI – who has teamed up with the park for the fourth year in a row.
Unilever – National Park America Tour
Whole foods and Starbucks for the breakfast
Friends of Valley Forge Park
PA Department of Conservation and Natural Resources - PA State Parks Region 4
National Parks Conservation Association
DOI - Federal Credit Union
Montgomery County Conservation District
Philadelphia Water Department
The Academy of Natural Science
Audubon Society – Valley Forge (leading a hike)
King of Prussia Rotary Club
Boy Scouts of America
Girl Scouts of America Troop
Valley Forge Signal Seekers
Villanova University
Southeastern PA Payroll Association
Christopher Dock Mennonite High School
Phi Sigma Pi. University of Delaware
GVF Transportation
Verizon Telecom Pioneers
Alumni Programs -Johns Hopkins University
DELVACCA - Johnson Matthey Inc.
Appalachian Mountain Club
Art of Living Foundation
St. Matthew's United Methodist Church
Saint Gabriel Hall School for Boys
And, all of you who came out today to give to your National Park. Your time and energy is appreciated. Thank you!
Last updated: February 26, 2015