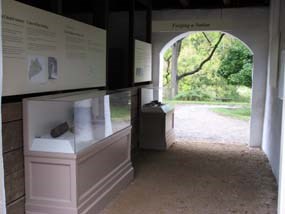 Forging a Nation—A New Exhibit at Valley Forge National Historical Park
Valley Forge—the name is so familiar to us that we rarely think about where it came from. There was an iron forge here once, and it gave its name to a village and to one of the most important events in American history—the winter encampment at Valley Forge.
A new exhibit, Forging a Nation, tells the story of the forge, its destruction during a raid by the British Army, and its excavation by archeologists. Artifacts from the excavation are on display.
Please visit the stable next to Washington's Headquarters to see this small exhibit, which is open at no charge from 9:00 am to 5:00 pm. You might want to combine your visit with a walk along Valley Creek to the site of the forge, and imagine a time when this quiet gorge was filled with industry and a thriving village.