Planning Your River Trip
Boating
Private boat liveries rent canoes, rafts, tubes, and other watercraft and can arrange a river trip suited to your wishes. The liveries provide safety instruction, a properly fitted life jacket, and they will shuttle you back to your vehicle.
You may bring your own boating equipment and use the public river accesses. A valid state registration is required for all motorized watercraft, and for commercial non-motorized vessels (canoes, rafts, kayaks) launching or taking out at Pennsylvania Fish and Boat Commission (PFBC) public accesses. Pennsylvania boat registration information, including a list of boat registration agents by county, is available on PFBC's web site. New York boat registration is available from NYS Department of Motor Vehicles or NYS Office of Parks, Recreation and Historic Preservation.
Fishing
The Upper Delaware is known as an excellent fishery, with trout, bass, walleye, eels, and shad in abundance. Bait and tackle shops are located in the area. If you plan to fish, and are 16 or older, you need a New York or Pennsylvania fishing license, which is valid on either side of the river. Licensed commercial fishing guides also operate on the Upper Delaware.
Camping/Lodging
Numerous privately owned campgrounds are along or near the river; make reservations in advance. There is a Pennsylvania State Forest primitive camping area for river users only within the Buckhorn Natural Area of Delaware State Forest, near Pond Eddy, NY. Permits are available from the National Park Service Barryville Office (845 557-0222)
Small motels and bed & breakfast inns are available near the river.
Equipment for a River Day Trip
> Canoe/Kayak/Raft
> Paddle for each person + 1 spare
> Life Jacket (PFD) for each person
> Old sneakers or river shoes
> Waterproof Sunscreen and Insect Repellent
> Sun hat
> Sunglasses with glasses strap
> Drinking water (not available at accesses)
> Lunch and snacks
> Trash bags (carry in/carry out!)
> Bailer
> Kneeling pads
> Waterproof bags
> Rain gear, windbreaker
> Change of clothes, extra socks (wool or high performance synthetic fibers are recommended, even in summer)
> Map or guidebook
> Flashlight
> Spare car keys
Store all gear - except life jackets - in waterproof containers tied to boat!
River Safety
Even though the Upper Delaware River looks calm in some areas, don't be misled! Moving water must be respected.
Wear your life jacket even when swimming. Most drownings occur when boaters stop and swim. Do not swim alone.
Do not overestimate your swimming ability. Do not swim or wade across the river. The Delaware River has strong currents and sharp drop-offs. Swimming becomes more difficult with increased current and water depth.
Cold water and/or weather can cause hypothermia.
Wear shoes to protect against glass and rocks.
River rocks may be slippery.
Guard against sunburn. Wear a hat and light clothing. Use a sunscreen with a high rating.
If you capsize, don't panic. Save people first! Retrieve boats and equipment only if it can be done safely.
Stay with your group.
Avoid obstacles well in advance. Stop and scout rapids to pick the best channel.
Do not tie your life jacket to your boat.
Do not stand in your boat. Kneel while going through rapids.
Bring an adequate water supply. Do not drink river or stream water.
Alcohol and boating are a killer combination.
Distance between Access Points
Paddling time varies greatly. Water level, wind, speed of current, paddling skill, and type of vessel all affect the duration of your trip. During the summer the average paddling speed is approximately 2-2.5 miles per hour.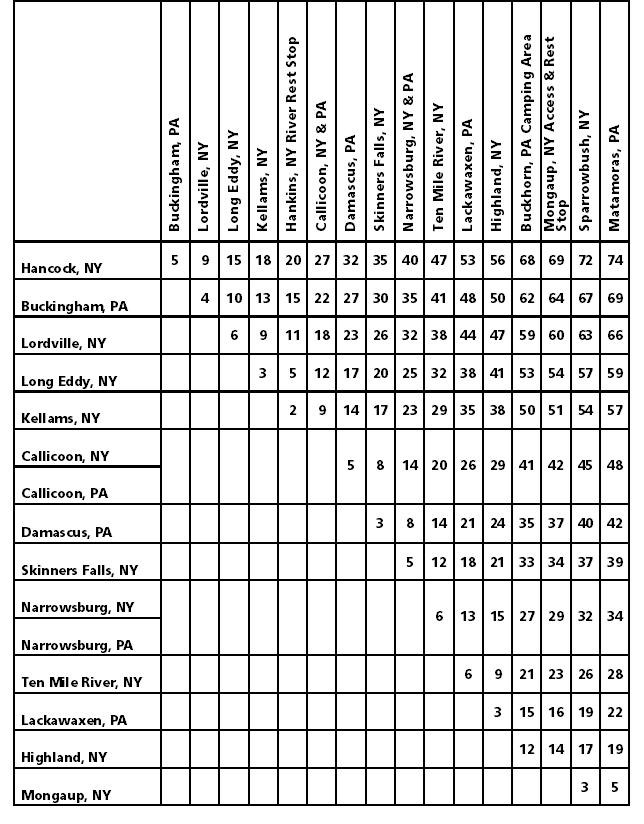 Last updated: September 8, 2013