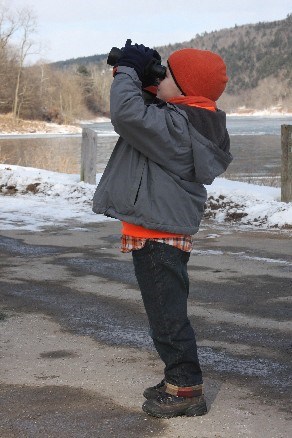 Bald eagles are not very tolerant of human activity and are easily disturbed. Human presence can stress the birds and affect their overall health, feeding, roosting, nesting and survival.

Eagle watchers are asked to cooperate by not attempting to approach any eagle and by following the preferred "eagle etiquette."

Use binoculars instead of trying to "get a little closer." Don't try to make a bird fly, as it will waste precious energy which it needs to survive. Persons on foot are the most disturbing to bald eagles.

Remember, it is illegal under federal and state laws to kill, trap, injure, take, annoy, harass, worry, or pursue (approach) a bald eagle. Up to $50,000 Fine and/or 1 Year Imprisonment for first offense.
For the least intrusive and most successful eagle viewing, please:
Remain in your vehicle.
Remain quiet. No loud music, yelling, door slamming, etc.
Respect private property and restricted areas.
Get out early in the day, between sun-up and 11 a.m., when eagles are most active.
Bring binoculars or a good spotting scope (window mounts work great!)
It's almost impossible to get close enough for a good eagle picture with a point-and-shoot camera.
For your safety:
Pull completely off road when stopping; park in designated areas.
Be prepared for ice, deep snow, or mud.
Avoid hypothermia.

Dress for extreme cold.
Bring a hot drink!

The key to successful viewing is patience!
The Eagle Institute leads guided eagle viewing trips to help you safely and considerately watch eagles in the Upper Delaware River watershed each winter.