Nearby Attractions
Grant's Farm
Adjacent to Ulysses S. Grant NHS is the 280-acre wildlife park owned and operated by Anheuser-Busch. Once part of the White Haven estate, the Busch family purchased the property in 1903, naming it Grant's Farm. Open seasonally April through October, they offer tram tours through the animal park and animal shows.
Grant's Trail
A hiking and biking path parallels the entrance to Ulysses S. Grant NHS. Grant's Trail was once the Kirkwood-Carondelet Branch of the Missouri Pacific Railroad, constructed in 1872 during Ulysses S. Grant's ownership of the property. The trail is currently eight miles long, with trailheads at I-44 and I-55 and Bayless. St. Louis County Parks maintains the trail in conjuction with TrailNet.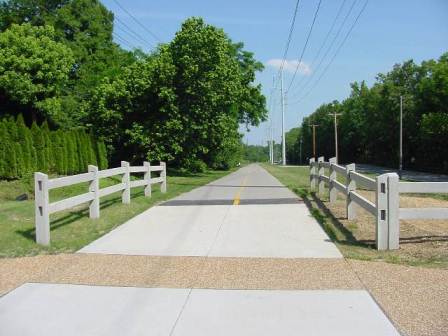 Jefferson National Expansion Memorial
The Gateway Arch, Museum of Westward Expansion, and the Old Courthouse comprise this unit of the National Park Service. Jefferson National Expansion Memorial is located approximately 12 miles from Ulysses S. Grant NHS in downtown St. Louis.