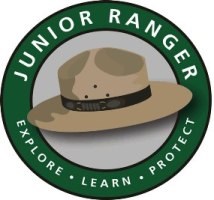 The park offers a free Junior Ranger program, with three different activity booklets for kids ages 5-7, 8-11, and 11+. Successful completion of the requirements earns the Junior Ranger their very own badge!
Free activity booklets are available at the site, or you can visit the "For Kids" page to download the activity booklet and bring it along with you when you visit the park.
There is also a Junior Ranger patch available for sale at the Information Desk following completion of the requirements.