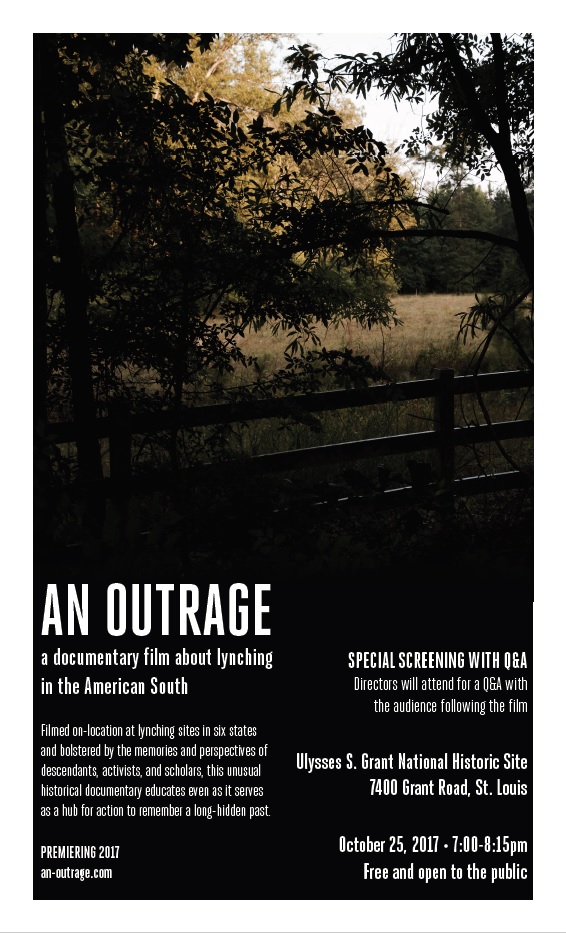 News Release Date:
October 18, 2017
Contact: Julie Northrip, 314-842-1867
Ulysses S. Grant National Historic Site
To Host Screening of "An Outrage,"
A New Documentary Distributed by Southern Poverty Law Center
Wednesday, October 25, 2017 7:00 – 8:15 pm
St. Louis, Mo - Ulysses S. Grant National Historic Site will present a free screening of An Outrage (https://www.an-outrage.com/), a new documentary film about lynching, on Wednesday, October 25, at 7:00 pm. The event will include a post-screening discussion with the film directors, Hannah Ayers and Lance Warren. Reservations are required. Call 314-842-1867 ext. 230.
An Outrage was filmed at lynching sites in six states – Georgia, Mississippi, South Carolina, Texas, Tennessee and Virginia – with descendants of victims, community activists, and historians. The film highlights the oft-hidden history of lynching and its resonance today. Jonathan Holloway, Provost of Northwestern University and an historian of the Jim Crow era, notes in the film, "I promise you, once you start taking in the 'unofficial histories,' the official history doesn't look quite so accurate anymore."
An Outrage includes interviews filmed in an artistic style uncommon for historical documentaries. The interviews include Holloway; two-time Pulitzer Prize-winner Isabel Wilkerson (author of The Warmth of Other Suns); Mia Bay, Rutgers University historian and Ida B. Wells biographer; and Yohuru Williams, historian and Fairfield University Dean of Arts and Sciences.
The film, produced by the Richmond, Virginia-based independent filmmakers of Field Studio, had its world premiere at the Smithsonian National Museum of American History in Washington, D.C. in March, and will be distributed by the Southern Poverty Law Center's Teaching Tolerance project to nearly 500,000 teachers—and their millions of students—across the United States starting this fall.
In April, at the Indie Grits Film Festival in Columbia, South Carolina, An Outrage received the Audience Award, marking it as the favorite among more than 80 films in competition. In August, the film was awarded Best Documentary Short at the Middlebury New Filmmakers Festival in Vermont.
The filmmakers note that the film's content is particularly timely in light of the national debate about the display of Confederate flags and monuments honoring Confederate leaders and the white supremacist violence in Charleston, Charlottesville, and elsewhere. "An Outrage reveals the long, unbroken tradition of white supremacy in America—as expressed by extremist organizers as well as community complacency—and how its history echoes for the families of the thousands of victims of racial terror," Ayers says. Warren adds: "We hope the film demonstrates why people of conscience, from all political backgrounds, must resist ongoing injustice, threats, and violence motivated by hatred over ideas about race."
Ulysses S. Grant National Historic Site is located at 7400 Grant Road, St. Louis, MO 63123. To make reservations for the film screening call 314-842-1867 ext. 230.
For additional information on Ulysses S. Grant National Historic Site, please visit www.nps.gov/ulsg and participate in the conversation at https://www.facebook.com/USGrantNPS/