Field Trips
Padre Kino's Quest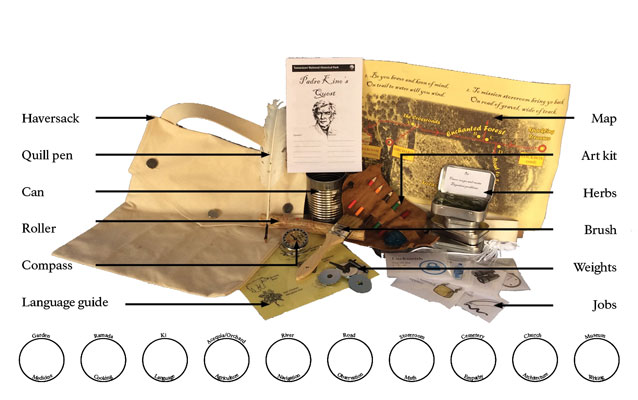 Description
This program plays similar to an "escape room" concept, but played over the entire park. 

The Premise:
In order to survive the hostile environment of the Pimería Alta, you will need to learn the lessons of Padre Eusebio Francisco Kino -- the region's first and most successful missionary. Participants on the Quest collect all 9 of the "Kino Skill Badges" by taking a kit of mystery tools to different locations around the mission grounds and Santa Cruz River. Each location presents a puzzle exploring a different "Kino Skill." Mastering the skill (using both the place and the kit) solves the puzzle. Solving the puzzle yields the code to a lockbox. Each lockbox holds the badge of completion for the skill. 
1) Travel: Go to a location marked on the quest map.
2) Read: Turn to the correct page in your quest journal. Read the instructions.
3) Solve: Complete the challenge. It may be a puzzle, a math problem, a riddle, or a wilderness adventure! It may also require use of a tool from your haversack. Which tool solves which challenge? That's for you to figure out!
4) Unlock: Use the code you collect from the challenge to open the lockbox. 
5) Stamp: Mark the back of the booklet with the stamp from inside the lockbox. These are the skill badges for mission-building. Re-lock the box before you leave.

Skill Badges
- Language
- Navigation
- Writing
- Empathy
- Mathematics
- Architecture
- Cooking
- Medicine
- Agriculture
 
Up to 10 teams may play simultaneously. There must be at least one adult chaperone with each team of 4-8 students.

***Chaperones play an especially important and ACTIVE role in this program. For guidelines and expectations, please visit and distribute the Chaperone's guidelines to your volunteers. 

Total group size limit: 80 students

Visit our Online SignUp to schedule or contact Melanie below.

Pre- and post-visit lesson plans available by email.
Contact
Melanie Rawlins
520-377-5064
Details
Subject:

American Indian History and Culture, Anthropology, Architecture, Environment, Geography, Hispanic or Latino American History and Culture, History, Language Arts, Mathematics, Social Studies, Writing

National/State Standards:

4.L.2, 4.L.3, 4.L.4, 4.L.6, 4.RF.3, 4.RF.4, 4.RI.1, 4.RI.2, 4.RI.3, 4.RI.4, 4.RI.5, 4.RI.8, 4.RI.10, 4.SL.1, 4.SL.3, 4.SL.4, 4.SL.6, 4.W.1, 4.W.2, 4.W.3, 4.W.4, 4.W.9.b, 4.OA.1, 4.OA.3, 4.NBT.2, 4.NBT.4, 4.NBT.5, 4.NBT.6, 4.MD.2, 4.MD.5

Keywords:

kino, padre, mission, tumacacori, tumacácori, live-action, adventure, escape room, badge, skill, stamp, kit

type:

Field Trips