Field Trips
Mission Mystery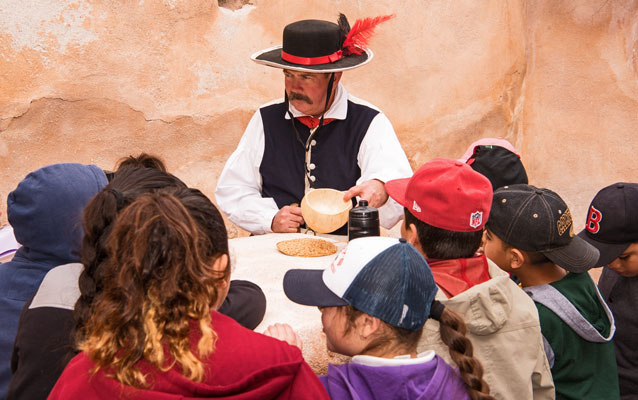 Description
Antonio, a young and hot-headed mission resident, is found dead in his home just outside the church of San José de Tumacácori. The village suspects foul play.
Students break into groups to investigate. Each source they encounter will be in a different site in the mission grounds and require a greeting in a foreign language and help with daily mission duties before agreeing to an interview.  Students will have to work collaboratively, think critically, assess the source's character traits, and then piece together the victim's final days on a timeline. In the process, they learn the in's and out's of mission life and the pressures that came to bear on its residents.
2 hours, maximum 50 students at a time (larger groups should call for possible program alterations)
Pre- and post-visit lesson plans available on request.
Contact
Melanie Rawlins
520-377-5064
Details
Subject:

American Indian History and Culture, Archaeology, Family Life, Hispanic or Latino American History and Culture, Historic Preservation, History, Language Arts

National/State Standards:

AZCCRS
4-5.RL.1, 4-5.RL.3, 4-5.RL.6, 4-5.RL.9, 4-5.RI.1, 4-5.RI.3, 4-5.RI.6, 4-5.RI.9, 4-5.RF.3, 4-5.SL.1, 4-5.SL.2, 4-5.SL.3, 4-5.SL.4, 4-5.L.6
6-8.RH.1, 6-8.RH.2, 6-8.RH.4, 6-8.RH.6, 6-8.RH.7, 6-8.RH.8, 6-8.WHST.7

Keywords:

mystery, whodunnit, investigate, mission, sources, interview, argument

type:

Field Trips