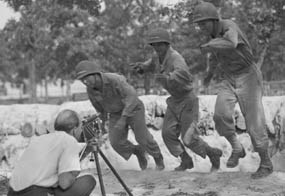 During World War II, the War Relocation Authority (WRA) contracted for five films to be made by the War Department's Hollywood film division. The War Department produced approximately 1,100 documentaries and newsreels that ran in movie theaters across the United States during WWII.
Photographers such as Ansel Adams and Dorothea Lange were contracted by the WRA to take still photographs of life in the camps. Other contracted photographers such as Tom Parker and Charles Mace shot both film and still footage.
Presented here are two of the five films produced for the WRA. The first film, "Japanese Relocation" was produced in 1943. The second film, "Challenge to Democracy" (1944) lists Parker and Mace as the photographers. The film attempts to justify why the federal government established the camps and acknowledges that conditions were not very good.
Despite the slant of both the films, the footage is a remarkable document of what Japanese American's lives were like in the camps. There are shots taken at several camps including Tule Lake.