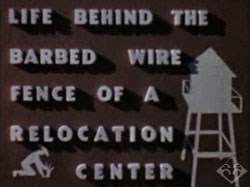 Life Behind Barbed Wire - Films by Anders Tomlinson

The Following two short films are about Tule Lake by survivors of the wartime incarceration
The first film is the visual rendering of a poem by Hiroshi Kashiwagi. A Meeting At Tule Lake earned him the title of Tule Lake's poet laureate. He was inspired to write and recite it at the 1975 Tule Lake pilgrimage. Since then, it has become an anthem for Tule Lake's pilgrims. Kashiwagi was honored with an American Book Award by the Before Columbus Foundation in 2005 for his memoir, Swimming in the American (2005), a collection of his poetry, short stories and plays.
The second film takes a look at day-to-day life in the Tule Lake Segregation Center. Jimi Yamaichi, who became a construction foreman in Tule Lake Segregation Center, shares his knowledge of the physical features of the camp site and the hardships endured by the families incarcerated in Tule Lake.
Credit: Produced by the Tule Lake Committee (2007); directed, filmed and edited by Anders Tomlinson