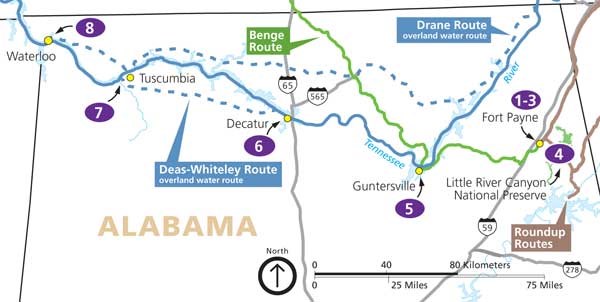 Cherokee removals through Alabama included water route detachments. Removal by water on steamboat and flatboat proved to be very hard for the Indians with hundreds of lives lost. The Bell Detachment of 660 Cherokee also passed through northeast Alabama in late 1838.
Please note: Not all sites have phone numbers or websites. Some sites are private.
This itinerary connects to the Find Your Park! Georgia,
Tennessee, Alabama rack card.
Click here to
view the rack card
.
Helpful websites for itinerary planning:
https://www.nps.gov/trte/planyourvisit/places-to-go-in-alabama.htm
https://www.nps.gov/trte/learn/historyculture/alabama.htm
http://fortpayne.org/history/sequoyah-and-the-trail-of-tears/
http://www.exploresouthernhistory.com/fortpayne3.html
---
1. Andrew Ross Home
Location:
4502 Godfrey Avenue (near 45th Street NE), Fort Payne
Telephone:
none
Access:
This is a private residence; it is primarily important because of its history and its extant exterior architectural features. It is not open to general public visitation.
Historical Significance:
Built circa 1821 by Andrew Ross and his wife Susannah Lowery Ross, the present Greek revival structure retains intact portions of the original Ross home. Andrew, brother of Principal Chief John Ross, was a Cherokee businessman and judge on the Cherokee Supreme Court. Susannah (Susan) was the daughter of Assistant Principal Chief George Lowery. An 1834 valuation of the property describes the large 2-story dwelling as constructed of hewn logs with a shingled roof, plank floors, a brick chimney with two fireplaces, and a 2-story banistered piazza extending across the front. Other structures included a 24-foot by 12-foot framed addition, a separate 16-foot by 16-foot log kitchen, a large double stable, two smaller stables, a smoke house, hen house, milk house, corn cribs, spring house, and several smaller cabins. The several hundred acre property also contained numerous fields, orchards, pasture, and woodland. Andrew and Susan Ross and their children removed to Indian Territory prior to the departure of the Benge Detachment.
Exhibits:
none
To learn more:
www.landmarksdekalbal.org/articles/AndrewRossHome.html
---
2. Fort Payne Cabin Site
Location:
At the east end of 4th Street SE (just east of Gault Avenue S), Fort Payne
Telephone:
(256) 845-6888 (Landmarks of DeKalb County, site owner)
Access:
Open to the public by appointment
Historical Significance:
In 1837, federal troops arrived in Wills Valley to establish a fort to remove removing the Cherokee Indians from the area. The cabin site is part of local property seized by the military for Fort Payne, one of over 20 removal forts (stockades) established in Alabama, Georgia, and North Carolina. Research indicates the cabin belonged to Cherokee John Huss (Spirit the Preacher) and was built circa 1825. Historical documents show that Cantonment Payne existed as early as fall 1837, became Fort Payne by December 1837, and was a major emigrating depot by the fall of 1838. The majority of Cherokee who were forced by the military to leave their homes in Alabama left from Fort Payne. A detachment led by Cherokee John Benge departed for Indian Territory in October of 1838, and the fort was closed soon after. Although the fort was used for only about a year, the cabin continued in use until the mid-1940s. Today a chimney, the cabin foundation, and a nearby stacked stone well remain.
To learn more:
www.exploresouthernhistory.com/fortpayne3.html
,
www.landmarksdekalbal.org/articles/FortSite.html
---
3. Willstown Mission Cemetery
Location:
38th Street NE (near the corner of Godfrey Avenue NE), Fort Payne
Telephone:
(256) 845-6888 (Landmarks of DeKalb County)
Access:
Daylight hours only
Historical Significance:
In 1823 Cherokee leaders John Ross, Andrew Ross, and George Lowery persuaded the American Board of Commissioners for Foreign Missions to open a mission/school for the Cherokee in Willstown. Situated on the main road from Ross's Landing to Willstown, the property was adjacent to a council ground frequently used by the Cherokee during the 1820s and 1830s. Several structures were constructed that year, including a 2-story log house for the missionaries, separate classrooms for the girls and boys, cabins for the students who boarded, and numerous outbuildings. Teachers included Reverend and Mrs. Ard Hoyt, Reverend and Mrs. William Chamberlain, and Reverend Daniel Butrick. In February of 1828, Reverend Ard Hoyt died after a brief illness and was buried on the property in a marked grave. Nothing remains of the mission/school, which closed before the removal in 1838. The cemetery contains 50 or more graves, but the only identified graves are those of Hoyt and of eight white settlers buried between 1841 and 1898. Some of the unidentified graves could be those of the 41 Cherokee who, according to military records, died in camp at Fort Payne before the Benge Detachment's departure.
Exhibits:
two historical markers, one erected by the Alabama Historical Association
To learn more:
www.landmarksdekalbal.org/articles/WillstownCemetery.html
---
4. Little River Canyon National Preserve, near Fort Payne
Location:
Begin at the visitor center, 4322 Little River Trail NE (472 AL Hwy 35 for GPS)
Telephone:
(256) 845-9605 x201
Access:
Call for visitor center hours and directions to the river crossing site
Historical Significance:
Little River Canyon National Preserve is a place of beauty that is also host to stories of adversity and survival. Over 1,100 men, women, and children moved through the Little River area during the removal of the Cherokee and Muscogee (Creek) Indians. Cherokee John Benge led the Fort Payne group of American Indians over 798 miles on the Trail of Tears to Indian Territory in what is now Oklahoma, crossing the Little River above the falls near the present-day Highway 35 bridge.
To learn more:
https://www.nps.gov/liri/learn/historyculture/trail-of-tears.htm
and
https://www.nps.gov/liri/index.htm
---
5. Lake Guntersville State Park, Guntersville
Location:
1155 Lodge Drive, Guntersville, AL 35976
Telephone:
(256) 571-5440
Access:
Contact park for hours of operation
Historical Significance:
Two detachment routes passed through today's Lake Guntersville State Park. Several detachments of Cherokee on the water route used the Tennessee River, which was later dammed and is now Lake Guntersville. The Benge Route (a land route) left Fort Payne and crossed the river, heading west towards modern Huntsville, Alabama. The Benge Route traveled across Alabama, Tennessee, Kentucky, Missouri, and Arkansas to reach Indian Territory (today's Oklahoma). There is an annual commemoration of the Trail of Tears in September.
http://alabama.travel/upcoming-events/lake-guntersville-state-park-trail-of-tears-commemoration-3
To learn more:
http://www.alapark.com/lake-guntersville-state-park
---
6. Rhodes Ferry Park, Decatur
Location:
Rhodes Ferry Park is located on the waterfront in Decatur at the historic port. The park is free and open dawn to dusk.
Telephone:
(256) 341-4930
Access:
unrestricted
Historical Significance:
Decatur was one stop on the 1,000-mile journey west. The town witnessed 2,300 Cherokee pass through in 1837 and 1838. They arrived here on steamboats and flatboats in cramped, inhospitable conditions that allowed diseases such as typhus to spread. Once docked at Decatur Landing, the Cherokee boarded cramped train cars. Their journey continued west by rail to Tuscumbia Landing (see #7 below), the only example of a railway being used in Indian removal.
Visit the park's exhibits at the parking lot and waterfront. The exhibits describe the scene during Indian removal and provide directions to walk through town to three witness structures that stood at the time of removal.
To learn more:
http://www.decaturparks.com/account.php?accountid=66
---
7. Tuscumbia Landing, Sheffield
Location:
At the confluence of the Tennessee River (Pickwick Lake) and Spring Creek, near the foot of Blackwell Road, west of downtown Sheffield
Telephone:
(256) 383-0250 (City of Sheffield)
Access:
unrestricted
Historical Significance:
Tuscumbia Landing was located at the western terminus of the Tuscumbia, Courtland, and Decatur Railway. During the summer of 1838, Cherokee detachments headed by Lt. Edward Deas and Lt. Robert H. K. Whiteley attempted to travel from Ross Landing, Tennessee, to Fort Gibson, Indian Territory, via the water route. These detachments floated down the Tennessee River to Decatur. Due to low water and potential difficulties navigating through Muscle Shoals, they rode on the railway west to Tuscumbia Landing and then boarded boats headed downriver. Prior to that summer, numerous other water route detachments brought Creeks, Choctaws, and other tribal groups past this spot on their way to Indian Territory.
To learn more:
http://cityoftuscumbia.org/?page_id=16
and
http://tuscumbialanding.org/
---
8. Waterloo Landing, Waterloo
Location:
Main Street, just south of Pine Street
Telephone:
(256) 764-3237 (Town of Waterloo)
Access:
unrestricted
Historical Significance:
Waterloo, located on Pickwick Lake (the former Tennessee River), was the site where, in July 1838, the 700-person Cherokee detachment led by Captain Gustavus S. Drane ended its 230-mile overland migration, boarded the steamboat
Smelter
, and left on the water route to Indian Territory.
To learn more:
www.waterlooalabama.com/trailoftears.php